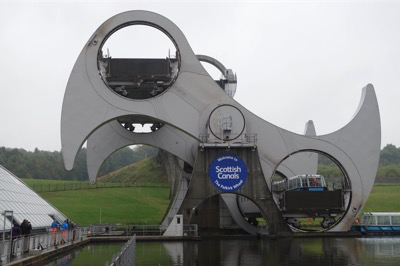 I survived my first night in a bunk bed since 1978 relearning old skills: balancing a torch on the pillow to read my book; seeking to minimise the community impact of squeaking doors in the middle of the night; finding ways to avoid the pain of a sharp ladder on the instep and so on. We had an early start which involved a self-service breakfast and waiting in line to make up sandwiches for lunch. Then it was a walk down the lane to board a bus that would take us to our first destination on our water journey. That was Lake Kathryn, the source of Glasgow's water. We all started off on the top of the boat but within an hour most had retreated into the cabin and were ordering hot coffee, as much for hand warming as for drinking! The fascinating aspect of this location is that until a few years ago the water simply flowed into Glasgow without treatment. A few of us got into a conversation about resilience here. Drinking untreated milk was another example. We always had that from herds that were certified as Brucellosis and Tuberculous free. Aside from it tasting better, you knew it was off by the smell and it almost certainly improved your immune system. Apparently there is some evidence that Glaswegians have higher resilience to stomach bugs when they travel overseas – I'm waiting to get the papers on that as its interesting.
To some extend this points linked into some of my thinking around in yesterday's post. What level of interference do we make into natural processes? Asking people to lap water from a puddle in the road is probably not the way to go in providing public water supply, but how much treatment in what context with what expectations? Similarly in organisations, how much do we protect people, how much do we expose their judgement without protection? If everything is transparent then people are likely to avoid risk, but if nothing is transparent you allow corruption and the abuse of power? How much is enough? What is too much?
That conversation continued in a pub in Bridge of Allen, the rain and the cold meant there were no takers for a walk to the river! From there we went on to the incredible Wheel Lift that connects the Forth to the Clyde. An example of engineering at its best, in the right context of solving real world problems based on sound theory. By now people were staring to use SenseMaker® to record their experiences and views and we were lucky to see the lift in operation. The whole point was to see water not just in the context of its ecological value, but also industrial and social use. My focus was a little different, it was to listen, observe and question to prepare for a keynote this evening. I always like spending a day with people before I talk – and that includes conferences. Sitting, listening and taking notes, revising what you are planning to say, adding or subtracting material based on what is said or more importantly is not said, all makes for a better experience. More on that tomorrow, where I will also pick up on the facilitation issue.