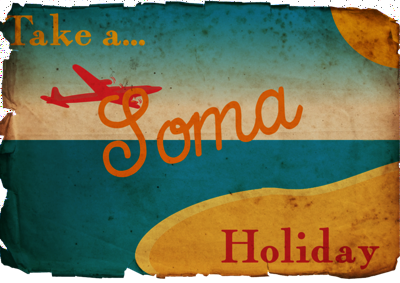 Soma is the drug that keeps people happy in Huxley's dystopian novel Brave New World. It has, to quote, All the advantages of Christianity and alcohol; none of their defects. I was thinking of it this morning on the flight to Tallin to give a keynote at itSMFest2016 on Cynefin Dynamics and Software Design. For those interested the slides are here although there is no podcast, which is a pity. This was one of the good ones: when an audience responds well it feeds the speaker. I sort of kept to the brief, but I opened up with a list of common assumptions and errors. All there on slide two, the one I want to pick up in this post went as follows: Having people engaged at the end of a facilitated workshop may be personally satisfying for the facilitator but it is unlikely to have sustainable impact. I realised from comments the previous day in New York that I may be coming over as anti-workshop which is not the case. I am against heavily facilitated workshops in which success is measured simply by how much people have enjoyed themselves.
To be honest I am increasingly hostile to the whole happiness movement that seems to be springing up. Somehow or other the idea seems to be spreading that success is measured by how delighted people are at the end of a staged event. We've got people spinning out a whole keynotes devoid of content, but fun of platitudes, smily face buttons at airport security exits and happiness software in which employees are constantly polled as to their level of contentment. It is a modern form of soma, or to go back to an earlier classic, people want to stay on the island with the Lotus Eaters rather than face up to reality. I've seen similar things with some of the popular techniques that have sprung up around Theory U and the like in which the workshops are the be all and end all of the intervention. The assumption is that if people have agreed to think and act differently at the end of a highly intense collective experience then that is all that is required to achieve change. Regrettably its not that easy, if the context surrounding the event doesn't change then no intensive personal experience is going to make any sustainable difference.
Its time to address real issues, not create a feeling of wanting to do good.