A couple years ago I had the pleasure to meet Ryan Martens, Founder and CTO of Rally Software, in beautiful Boulder, CO.  Rally Software is a provider of products and services that help companies transition to Agile business practices. Cognitive Edge has trained several of Rally's Agile coaches in Cognitive Edge methods over the past two years and I have maintained relationships with Ryan as well as Rally's Chief Technologist, Zach Nies. So when Ryan approached us here at CE to partner on a project he is deeply passionate about, Rally for Impact, we were keen to help out.  
Rally for Impact is part of Rally Software and is a social impact enterprise operating within a for-profit company. Its objective is to help mobilize Citizen Engineers around the world to help solve the world's most intractable problems. Citizen Engineers are individuals with a technical background who practice socially responsible engineering with a passion for giving back to communities. The concept originated with Dave Douglas' and Greg Papadopoulos' book Citizen Engineer.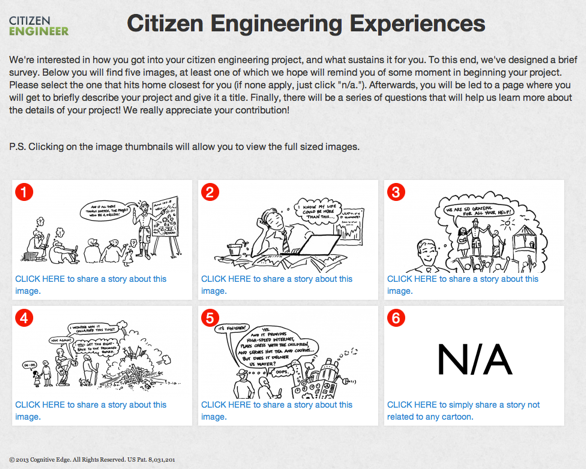 Recently I assisted Ryan in preparing a blog post on the Engineering for Change website to help raise awareness of our drive to gather stories.  Our contribution to this effort was to configure a story gathering website with SenseMaker® and to have contributors signify / index their experiences.  Here is the link to the SenseMaker® landing page for gathering Citizen Engineering stories.  The first page presents cartoon images to prompt visitors who work in technical or engineering environments to share their stories related directly or indirectly to Citizen Engineering. It's important to note that the concept is to gather a broad range of stories including situations or experiences that trigger or deter Citizen Engineering motivations. The patterns we find in the indexing along with access to the stories will be made publicly available once a sufficient volume has been gathered. For further background on the this initiative watch this interview with Ryan and review the Engineering for Change blog post by Ryan and me.
Please share a story if you can relate to such opportunities or projects.  Also if you could encourage others you know who have contributed to making the world a better place through the application of their technical or engineering knowledge, be sure to have them tell their story here as well.