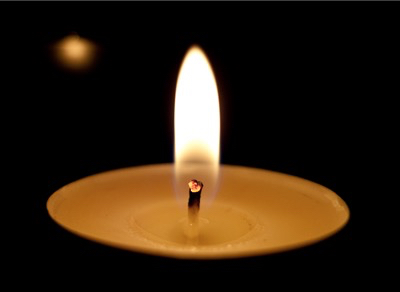 I spent most of the day clearing email on a sequence of trains to Glasgow. I am due to keynote tomorrow evening a Water Innovation Lab session. Aside from introducing Complexity the participants will be using SenseMaker® to record their experiences on the field trip tomorrow and I decided it would be best if I was a part of that, rather than just flying up Monday and leaving Tuesday. Reaching Warrington Bank Quay nostalgia set in. I used to change here, having started from Chester, to get to Lancaster University and I would prayer that the wind blowing from the station to the soap factory not the other way round.
Nostalgia reached a more significant legal with the opening session of the event this evening where we all ended up sitting cross legged on the floor with candles and flowers in the middle. We were also staying in dormitories with bunk beds and shared facilities. Now both the candles and the bunk beds were regular features of my life at University and for three years after in the Student Christian Movement at Wick Court and elsewhere. My opening encounters with Gestalt therapy as well as the day to day norms of living in a commune. As I remember it we had a hand carved tree trunk into which water, oil, flowers and a floating candle were placed before significant events in the communities life, both spiritual and disciplinary. In respect of the latter I was once arraigned for chastising a child for throwing a cat down the stair well and my failure to admit fault or guilt for something I would do again in the same circumstances did not go down well, But for now the context was evoking some nostalgia and I was remembering the pattern of older people who joined us back then and their willingness to engage, so engage I did.
Now that was back in the 70s and since then I have been at many workshops and encountered and managed many approaches. Some I enjoy, some I don't. Some I find manipulative, some open and engaging. In general I tend to take an ethnographic approach, engaging in the this case while observing; refusing to engage as in a recent South African event which required some form of exorcism of bad karma. I must admit that on this occasion I was curious as (i) they were all very nice, committed and passionate people, (ii) the facilitator knew what she was doing and had a light touch and (iii) I was mentally back in the Wick Court Conference Centre, preparing for a night of hopping in and out of the top bunk; age takes its toll in needs for visits to the facilities while younger bodies are seeking sleep. So I happily hung a card around my next containing my skills, my hopes, things no one knows about me and then walked around the floor until the music stopped at which point I shared one of the categories with whichever unfortunate happened to be in front of me at the time. All three were interesting, all three conversations could have gone on for longer, but the music set us going again.
I was covertly looking for a parcel to unwrap a layer or a chair to seize but I was also thinking about the keynote tomorrow. Either way I was both engaged and distracted which is a good space to think. Part of what I want to get over tomorrow is the difference between an engineering metaphor and an organic one, between trying to control output through process and creating the context in which good things are more likely to happen. I started to think about all the facilitated sessions I have been through and the increased number of processes to break the ice at events. All of them seem to involve brief encounters and specific activities prescribed by the facilitator. In effect one is generally following a staged linear process. Now in contrast I can think of other events where beer or whisky around a log fire with conversations ranging over multiple subjects have been more satisfactory, more natural.
Now this is not an either/or but a both/and. Remember one of the key aspects of Cynefin is to legitimise systems thinking in a complicated domain, but not in a complex one. So are the type of exercises which have crept into group facilitation over the last few decades valid or invalid in each to both domains? How much can be achieved in a large group moving in an open space in a limited time frame? Can we look more at enabling constraints? So in what context would one adopt which techniques? What is clear is that a significant aspect of many of the approach appears to be a series of engineering metaphor recipes in which interaction and communication cannot be trusted to people mingling, unless the mingling is organised and orchestrated. When are we guilty of taking an artisan skill and converting it into a manufacturing process? Can that ever be legitimate? If not does it do harm?
Now to answer those questions I need to map the nature and type of methods that can be used onto Cynefin. More on that later in the week. But now I am heading the Royal Hotel (as it is the only place with internet) and then to make up my top bunk bed for the night.