(français plus bas / French below)
The following is the story and mostly the lessons learned from a recent conference I gave at the Agile Tour Montreal 2022 event. It may be of interest to:
Professional speakers
Complexity practitioners (SenseMaker® users or potential users)
Innovation practitioners
The Context
I am, or constantly strive to be a better corporate coach, complex facilitator, and public speaker. My centre of gravity is enabling executives, leaders and managers faced with complex situations, problems, and contexts. A few months ago, I was asked to be a keynote speaker at a large Agile event, the Agile Tour Montreal 2022. It is a 2-day event with over 30 conferences and workshops, 1200 participants, various business partners kiosks, and lots of swags and greet-and-meets opportunities. The event's overarching topic this year was "L'audace d'innover" or loosely translated, The audacity to innovate. Needless to say, I promptly accepted.
I still consider myself a student of complexity and have been constantly reading and educating myself on the topic for many years. As one would expect, I have thus been following the work of Dave Snowden and his ever-growing team. The road has been a challenging one as I never quite understand what Mr. Snowden means when I first hear him speak. But with time some of the concepts are slowly making their way into my thick skull and I find myself more and more at ease with the main ideas surrounding complexity. Working with clients, I have been looking for an opportunity to use the SenseMaker® tool to see how I can use it to further shifts in perspectives on their part. For those who don't know, SenseMaker® is a program used to gather quantitative AND qualitative data from participants in a way which fosters discussions and collisions of the existing various perspectives with the goal of permitting new perspectives to emerge.
On a whim, I decided to use my upcoming keynote conference as a test bed for SenseMaker®. The event's main topic was, after all, the Audacity to innovate!
The Preparation
So, two things I did in rapid succession, first contacted Quentin Chevet on the organising committee, to ask if he was ok with me trying something different for my conference… to which (credit to him) he readily agreed. And contact someone at the Cynefin Co to see how, if at all possible, we could make that idea a reality. That someone turned out to be Beth Smith a long-time consultant at Cynefin Co. I take this opportunity to mention how awesome Beth was in this adventure. Her responsiveness, enthusiasm, willingness to adapt and tweak as required and professionalism were the reason this project was possible. So a huge thank you, Beth! Beth told me that the tool had been used at conferences before, but usually only by the staff at The Cynefin Co, and more commonly over the time of the event rather than live *in* a conference. This was the first time using the new improved SenseMaker® platform, so this was to be the first iteration for everyone!
Finding the right questions
The main takeaway for current or future SenseMaker® users.
The selection of the questions to use to interact with the audience was for me the most difficult part. As Beth aptly said the questions are the scaffolding for everything else afterwards. Having already built my presentation before I had the SenseMaker idea, I tried to adapt the questions to what I already had, which, in insight, was not the best way of doing it. If I were to do it again, I would start with the question or at least, build the talk structure at the same time as I would choose the questions as they are entangled together. In the end, I had 4 questions, 2 of which were in the end somewhat uninteresting and two of which were a lot richer.
The Conference
The main takeaway for speakers
With a QR code, the tool is super easy for participants to access using their smartphones. Answering the questions is quick and intuitive as is submitting the answers.
You need to coordinate with the technical staff and give them prior access to the dashboard as they need to refresh the data and switch screens for you to present the results to the crowd. Some rehearsal is necessary here to make sure everybody understands what needs to be done. But overall, it's relatively simple.
The main benefits of a speaker are many:
It gets the audience involved from the get-go as you are asking them their opinion about a topic
It increases their interest in the talk as they know they will be asked for their input at the end as well
It creates a collective sense of curiosity as we are all interested in finding out what has shifted (or not) based on the talk
The risks:
The main risk is finding out with the participants at the end that nothing has shifted following your talk. You need to be prepared in your talk for such a possibility.
What we learned from this first iteration:
The tool is currently not built to receive 1000 concurrent users and display the data instantaneously in a live manner.
A side-by-side comparison setting needs to be added in order for speakers to present and decode the data on the fly
Finally, the visual presentation needs to be adapted so that reading the results become so
obvious that no explanations are necessary.
This said Beth tells me that a lot of these items are already being addressed and implemented by the SenseMaker team.
The Learning
My talk was about "uncomfortable conversations" and their importance in the innovation process. There were two main elements leading to an overarching theme.
The link between strategy and innovation
Creating a vocabulary around complexity and innovation
Which both help us tackle uncomfortable conversations necessary for innovation
Participants were asked to think about their current project when answering the questions.
The first question was: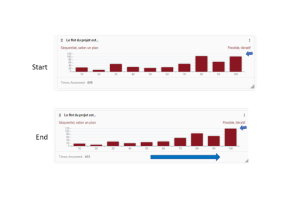 The flow of the project is… Sequential, according to a plan……….. Flexible, iterative
Here, surprisingly, even though their project had not changed in the 60 minutes of the talk, we still notice that participants adjusted their perception of their project based on the talk, sliding a little more towards the Flexible and iterative side
The second question was: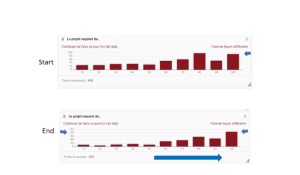 The project requires: That you continue doing what you are doing……… Do differently
Again, interestingly, something in the talk made the participants adjust their perception towards the need to do differently. Notice the change in the scale which went from 100 to 150, hence a significant increase at the end.
The third question was: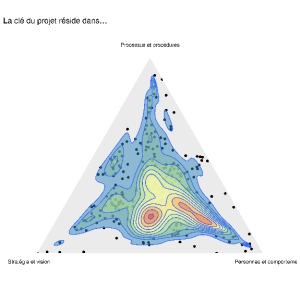 The key to the project resides in: Process and procedure / Strategy and vision / People and behaviours
Here, I presume that because I talked about innovation and strategy and the need for uncomfortable conversations, we can clearly see that a polarization towards the space between strategy and people happened. This could be seen as a direct corollary between my talk and the audience's change of perception.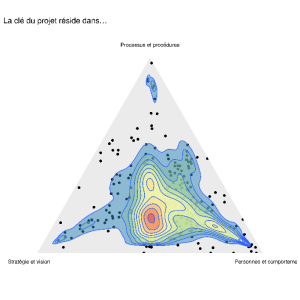 The last question was: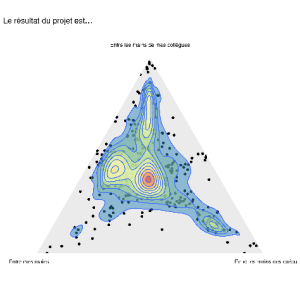 The result of the project is: In the hands of your colleagues / In your hands / In the hands of the executives
Again, interestingly, something in my talk helped the participants realise that they perhaps had more control over the situation than what they believed initially, as we see an increased concentration of answers shift to the space between my hands, my colleague's hand and our collective hands. Fewer participants believed at the end of the talk that the answers lay solely in the hands of their colleagues or executives.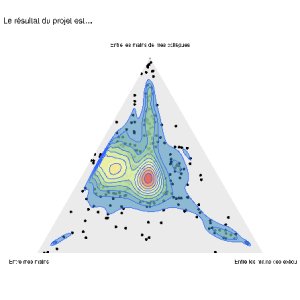 Finally, there was a last question which asked what was your overall takeaway from this talk (a qualitative question) When we regroup the answers into large clusters, we notice that:
23% of respondents appreciated the part where we created a common vocabulary around complexity
22% of respondents focused on the importance of the link between innovation and strategy
20% of respondents underlined as a takeaway the necessity to be better at uncomfortable conversations and the balanced took away either unrelated things or focused on minute other details.
This brings back to mind the notion that as leaders, communication is a key lever of movement. And NO, it's not because you said it once that they all understand the same thing!
Conclusion
I'll let you draw your own conclusions from all this, but on my part, based on the overall data we collected, I am quite pleased with the outcome. I believe that most of my message got across and had a significant impact on the perceptions of the participants.
Is there room for improvement? Always! And using such a tool in a live conference opened up for me a whole new way of thinking about how I will prepare and use my public speaking opportunities in the future.
The main takeaway for Innovation practitioners
Innovation is not a big project here and there. Innovation is an ingredient that we can incorporate into everything we do. It is so easy to say "not this time", "or this is too risky". Innovation starts with trying something different and the opportunities for that are ever present. It is up to us to seize them when they present themselves.
Maybe it starts with an uncomfortable discussion with ourselves?
Acknowledgements:
Thanks to Quentin and the organising committee of the Agile Tour Montreal for their invitation and openness to trying something different
Thanks to the techs from Solotech who agreed to support me during the conference with their technical skills
Thanks to Beth and the Cynefin Co for making this possible
And lastly, thank you to all the participants at the conference. You jumped willingly with me in this first iteration, laughed with me at the long load times and were absorbed with me as we discovered the results at the end. You were awesome!
For further details, information, or accompaniment needs please do not hesitate to contact us:
Modulus-Excellence
JF Lavallee (info@modulus-excellence.ca)
Modulus-Excellence is helping leaders make better conscious business decisions in an increasingly complex world by offering: executive coaching, strategic counsel, leadership development programs and workshop conferences. For the last ten years, we have been working hand-in-hand with leaders and executives, enabling them to become proactive in ever-changing environments by learning to make sense of the world which surrounds us.
The Cynefin Co
Beth Smith (beth.smith@thecynefin.co)
The Cynefin Co is an action research hub that enables individuals and organisations to navigate and make sense of uncertainty by providing tools and methods based on scientific theory. We are the developer of SenseMaker® The first and original distributed ethnographic approach to sense-making, allowing for large-scale capture of narrative subject becomes their own ethnographer. SenseMaker® combines the scale of numbers with the explanatory power of narrative.
Oser essayer… comment une grande conférence est devenue une première itération
Ce qui suit est l'histoire et surtout les apprentissages issus d'une conférence que j'ai eu le privilège de donner dans le cadre de l'événement Agile Tour Montréal 2022.
Le contenu du présent article s'adresse aux personnes suivantes :
Les conférenciers professionnels

Les praticiens de la complexité (utilisateurs du SenseMaker®

ou utilisateurs potentiels)

Les praticiens en innovation
Le contexte
Je suis, ou j'essaie d'être, le meilleur coach d'affaires, facilitateur en environnements complexes et conférencier que je puisse être. Ma plus grande préoccupation est d'aider les leaders, les gestionnaires et les cadres supérieurs qui font face à des situations, à des problèmes et à des contextes complexes.
Il y a quelques mois, on m'a demandé d'être conférencier principal à un grand événement de la communauté Agile, l'Agile Tour Montréal 2022. C'est un événement de 2 jours offrant plus de 30 conférences et ateliers aux 1200 participants, un parterre de partenaires ayant des kiosques, beaucoup de petits cadeaux de présence et d'innombrables opportunités de réseautage.
Le sujet de l'événement cette année était « L'audace d'innover ».
Nul besoin de vous dire que j'ai accepté immédiatement.
Je me considère toujours un éternel élève de la complexité, et ne cesse de lire des livres et de suivre des formations sur le sujet. Comme certains pourront s'en douter, je suis donc inévitablement de près les travaux de Dave Snowden et son équipe sans cesse croissante. Cette route n'est pas facile étant donné qu'il m'est difficile de bien saisir son propos à première écoute. Mais au fil du temps, les différents concepts semblent finalement faire leur chemin au cœur de ma dure cervelle, car je me surprends à être de plus en plus à l'aise avec les grands principes entourant la complexité.
Travaillant avec plusieurs clients, je cherche depuis un bout de temps une opportunité d'utiliser l'outil SenseMaker afin de mieux les soutenir dans la transition qu'ils tentent d'effectuer.
Pour ceux qui ne connaissent pas SenseMaker, c'est un outil de collecte d'informations quantitatives ET qualitatives permettant aux participants mêmes d'interpréter les résultats provenant de leurs propres réponses et d'ainsi favoriser les échanges et les collisions de perspectives dans le but de faire émerger de nouvelles possibilités.
Sur un coup de tête, j'ai décidé d'utiliser cette conférence comme une occasion de tester le SenseMaker. Le sujet principal du colloque était « L'audace d'innover » après tout!
La préparation
J'ai donc effectué deux choses rapidement l'une après l'autre. D'abord, j'ai communiqué avec Quentin Chevet du comité organisateur pour lui demander la permission d'essayer quelque chose de différent lors de ma conférence… ce qu'il a tout de suite accepté et qui est tout à son honneur.
Ensuite, j'ai contacté quelqu'un au Cynefin Co (la société à l'origine du SenseMaker) pour voir comment, si même possible, nous pourrions faire de cette idée une réalité. Cette personne était Beth Smith, consultante de longue date chez Cynefin Co.
Je saisis cette occasion pour mentionner comment fantastique a été Beth durant cette aventure. Sa proactivité, son enthousiasme, sa volonté d'adapter la situation selon les besoins et son professionnalisme sont la raison principale pour laquelle ce petit projet a pu voir le jour. Alors un gros merci, Beth!
Beth m'a mentionné que l'outil avait déjà été utilisé auparavant lors de conférences, mais normalement seulement par le personnel du Cynefin Co, et plus souvent au cours de l'événement plutôt qu'en direct pendant une conférence. Comme c'était la première fois qu'on utiliserait la nouvelle plateforme améliorée du SenseMaker, ce serait une première itération pour tout le monde!
Trouver les bonnes questions.
Apprentissage pour les utilisateurs présents et futurs du SenseMaker
La sélection des questions utilisées pour interagir avec les participants a été la partie la plus difficile pour moi. Tel que Beth me l'avait mentionné, les questions sont l'échafaudage sur lequel est bâti tout le reste.
Ayant développé la présentation avant d'avoir l'idée d'utiliser le SenseMaker, j'ai essayé d'adapter les questions à ce que j'avais déjà, ce qui en rétrospective, n'était probablement pas la bonne approche. Si j'avais à refaire le processus, je commencerais par les questions ou, du moins, je les choisirais en même temps que je préparerais la présentation, les unes étant indissociables de l'autre.
En fin de compte, j'ai utilisé quatre questions : deux semi-intéressantes et deux autres qui ont favorisé une discussion plus riche.
La conférence
Apprentissage pour les conférenciers
Avec un code QR, l'outil est super facile d'accès et convivial pour les participants qui utilisent leur téléphone intelligent. Répondre aux questions est rapide et intuitif, de même qu''enregistrer les réponses.
Il vous faudra coordonner le tout avec l'équipe technique de votre conférence en lui donnant au préalable accès au tableau de bord de la plateforme, afin qu'elle puisse la mettre à jour avec les réponses des participants et faire le transfert d'écran pour que tous puissent voir les résultats. Une petite répétition est fortement suggérée afin que tout le monde comprenne le rôle qu'il aura à jouer. Grosso modo, le tout est relativement simple.
Les avantages principaux pour un conférencier sont les suivants :
L'implication immédiate des participants étant donné que nous leur demandons leur opinion à propos d'un sujet donné

L'intérêt accru des participants pour la présentation, comme ils savent que leur opinion sera sollicitée une fois de plus à la fin de l'événement

La génération d'une curiosité collective envers ce que nous découvrirons ensemble suite à l'examen des réponses en fin de conférence
Le risque :
Le risque principal est de découvrir en simultané avec les participants que les perspectives de ceux-ci n'ont pas changé suite à votre intervention. Vous devez être prêt pour une telle éventualité.
Ce que nous avons appris suite à cette première itération :
L'outil n'est présentement pas construit pour recevoir 1000 utilisateurs de façon simultanée et afficher en temps réel les résultats

Une option de comparaison des résultats (côte à côte) serait utile pour faciliter la présentation et le décodage en temps réel par le conférencier

La présentation visuelle doit être adaptée afin que la lecture des résultats soit si claire qu'aucune explication n'est nécessaire de la part du conférencier
Cela dit, Beth me mentionne que plusieurs de ces enjeux sont déjà en train d'être adressés et implémentés par l'équipe de développement du SenseMaker.
Les apprentissages
Ma conférence traitait de « conversations difficiles » et de leur importance en innovation.
Les éléments principaux sous le thème principal étaient les suivants :
Le lien entre la stratégie et l'innovation

La création d'un vocabulaire commun autour de la complexité et de l'innovation

Les deux aidant à affronter les conversations difficiles nécessaires à l'innovation
Les participants devaient penser à leur projet en répondant aux questions du SenseMaker.
La première question était :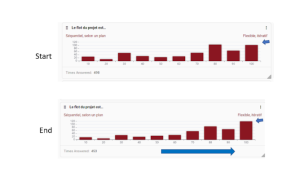 Le flux du projet est : séquentiel, selon un plan… flexible, itératif
De façon surprenante, bien que leur projet n'ait évidemment pas beaucoup changé pendant les 60 minutes de la présentation, on remarque que les participants ont ajusté leur perception de leur projet en fonction de la conférence, glissant un peu plus vers le côté flexible et itératif.
La seconde question était :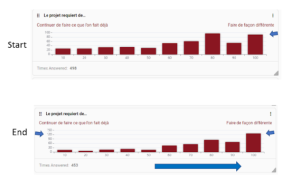 Le projet requiert de : Continuer de faire ce qu'on fait déjà… Faire les choses de façon différente
Une fois de plus, de façon intéressante, quelque chose dans la présentation a incité les participants à ajuster leur perception par rapport au niveau de nouveauté nécessaire au sein de leur projet. Remarquez le changement dans l'échelle du graphique qui est passé de 100 à 150, et qui confirme un déplacement révélateur vers la droite.
La troisième question était :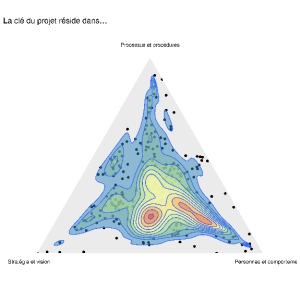 La clé du projet réside dans : Processus et procédures / Stratégie et vision / Personnes et comportements
Ici, l'on peut présumer qu'étant donné que j'ai souligné lors de la conférence l'importance du lien entre la stratégie et l'innovation, et de la nécessité d'entamer des conversations difficiles, c'est la raison qui explique la polarisation des réponses vers l'espace entre stratégie et personnes. Cela pourrait donc être perçu comme une corrélation directe entre le contenu de la présentation et le changement de perspective des participants en lien avec ce sujet.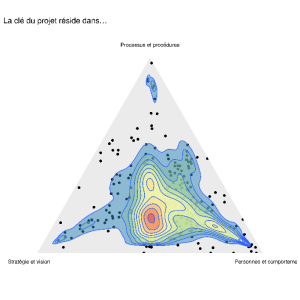 La dernière question était :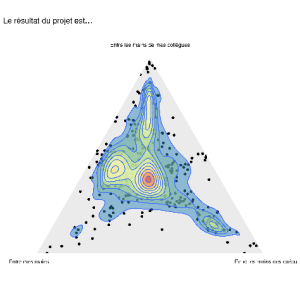 Le résultat du projet est : Entre les mains de mes collègues / Entre mes mains / Entre les mains des cadres
Ici aussi, on constate que quelque chose dans mon discours a permis aux participants de reconsidérer leurs implications et impact dans leur projet par rapport à leur perspective de départ, car le graphique illustre qu'une grande partie des réponses qui gravitaient dans l'espace des « entre les mains de mes collègues » ou des « entre les mains des cadres » se retrouvent en fin de compte concentrées « entre mes mains » et « entre les mains de mes collègues ».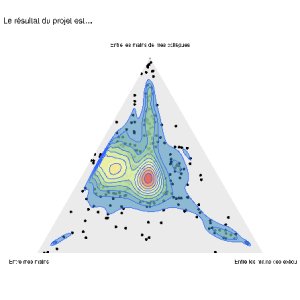 À la fin de la conférence, les participants étaient moins nombreux à penser que la solution à leur projet résidait exclusivement dans des mains autres que les leurs.
Pour conclure, nous avons demandé aux participants ce qu'ils avaient retenu de l'exercice (une question qualitative).
Lorsque nous consolidons les différentes réponses, nous remarquons que :
23 % des répondants ont apprécié le segment où nous avons créé un vocabulaire commun autour de la complexité
22 % des répondants ont souligné l'importance du lien entre la stratégie et l'innovation
20 % des répondants ont souligné la nécessité de devenir plus à l'aise avec les conversations difficiles
Et les autres ont fait ressortir soit des éléments non mentionnés, soit d'infimes détails.
Ces constats nous rappellent, qu'en tant que leaders, la communication est un levier fondamental du mouvement; et que non, ce n'est pas parce que nous l'avons clairement dit une fois que tout le monde a compris et compris la même chose!
Conclusion
Je vous laisse tirer vos propres conclusions; pour ma part, selon les données que nous avons amassées, je suis assez satisfait du résultat en fin de compte. J'ai l'impression que la majorité de mon propos a été reçu par les participants et, qui plus est, a eu un impact significatif.
Peut-on faire mieux? Toujours!
De plus, l'utilisation d'un tel outil lors d'une conférence m'a ouvert les yeux sur une nouvelle façon d'envisager de tels événements et comment mieux utiliser ces opportunités magiques de s'adresser à un large public dans le futur.
Apprentissage pour les praticiens en innovation
L'innovation, ce n'est pas un grand projet mené ici et là. L'innovation, c'est un ingrédient qu'on incorpore dans tout ce qu'on fait.
Il est toujours facile de dire « pas cette fois », « c'est trop risqué ». L'innovation commence par l'essai de quelque chose de différent, et les occasions pour le faire ne manquent pas. C'est à nous de les saisir lorsqu'elles passent.
Peut-être le processus commence-t-il par une discussion inconfortable avec soi-même?
Remerciements :
Merci à Quentin du comité organisateur d'Agile Tour Montréal pour son invitation et son ouverture à essayer quelque chose de différent.
Merci à l'équipe technique de Solotech qui a accepté de me soutenir grâce à leurs connaissances techniques durant la conférence.
Merci à Beth et au Cynefin Co d'avoir rendu le tout possible.
Et finalement, un énorme merci à tous les participants qui ont assisté à cette conférence. Vous avez sauté avec moi à pieds joints dans cette première itération, vous avez rigolé avec moi durant l'attente de l'affichage des données, et vous étiez tout aussi absorbés que moi lorsque nous avons découvert ensemble les résultats finaux. Vous avez été géniaux!
Pour de plus amples détails, information ou besoins d'accompagnement, n'hésitez pas à nous contacter :
Modulus-Excellence
JF Lavallée (info@modulus-excellence.ca)
Modulus-Excellence accompagne les leaders afin de consciemment prendre de meilleures décisions d'affaires dans un monde de plus en plus complexe en offrant : coaching d'affaires, accompagnement stratégique, programme de développement du leadership et ateliers-conférences. Depuis dix ans, nous travaillons main dans la main avec les dirigeants pour leur permettre de demeurer proactifs dans un environnement en constant changement en apprenant comment donner du sens au monde qui nous entoure.
The Cynefin Co
Beth Smith (beth.smith@thecynefin.co)
The Cynefin Co est un centre de recherche-action qui permet aux personnes et aux organisations de naviguer dans l'incertitude et d'en tirer du sens, en fournissant des outils et des méthodes fondés sur la théorie scientifique. Nous sommes le développeur du SenseMaker®, la première approche ethnographique distribuée du « sense-making », permettant la capture à grande échelle de la narration, le « sujet » devenant son propre ethnographe. SenseMaker® combine l'ampleur des chiffres au pouvoir explicatif de la narration.