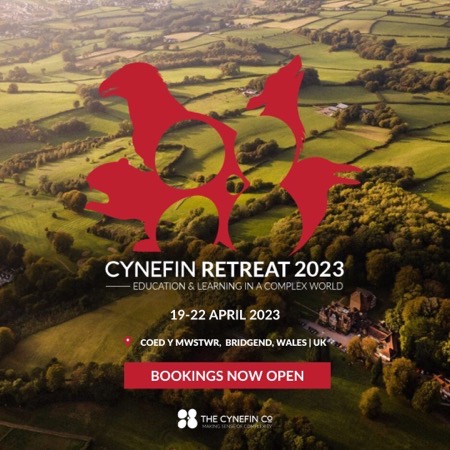 I'm pleased to say that our first retreat of the year, based on the triopticon process is more or less sold out.  We've pulled in some additional accommodation and can if needed move some of our staff into local accommodation but it's more or less there.  We have opened up day visitor options for people who live locally or are happy to book their own accommodation.  The venue has Arthurian connections and is in the country but only a half hour's drive from Cardiff or 3½ miles from Bridgend Station, both on the mainline from London with easy connections from Heathrow.
We started up the retreats in 2017 and we've run them on three continents most years since other than the COVID period.  Planning is already advanced for one on Leadership in Australia this September and another a Complexity in the US in Oct/November then back to Wales in a year's time.  The retreats are where ideas start in the Cynefin ecosystem and we bring together people from radically different backgrounds to explore a field.
This retreat is all about lifelong learning, and the role of education in shaping and forming society.  You can find details of the faculty on the events page.   Retreats generally attract some of the deepest thinkers (and doers) in our network and we leave plenty of space for conversations and explorations not only of the theme itself but beyond.
Given the venue, there is an optional pre-event at the National Folk Museum of Wales and a post-event at the Millennium Stadium for a major game of Rugby.  So plenty to do and for those who want to take a longer break plenty of advice is available.  We are next to the Jurassic Coast of South Wales (where I spent much of my youth with a fossil hammer and multiple canvas bags) and also the Brecon Beacons which is where I do a lot of walking.  Then there is the whole heritage of South Wales with Castles and Industrial Museums.
So if you have booked, I am looking forward to seeing you there.  If you haven't this is a last chance …
---
The banner picture is cropped from an original  of Coed-y-Mwstwr created by EVO GT and obtained from Flickr,  used under the terms of a Creative Commons license