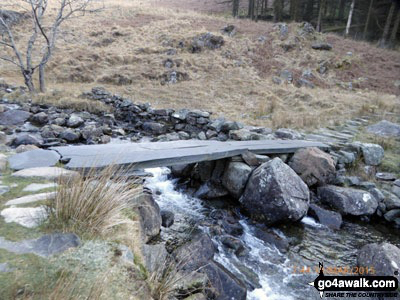 Two sessions in Wellington today along with a dinner meeting and I'm starting to loose track of what stories I used with which groups; a not uncommon problem. One story I did tell relates to a key aspect of knowledge that I have referenced or hinted at in recent posts. The picture is the clapper bridge over Nant Cadair on the return from Mynydd Moel on the wonderful circuit of Cadair Idris that starts with a sharp ascent through sessile oak woods on the Minffordd Path route to the summit. I did the walk recently with daughter and (in part) sister timing the return to see the sun set over the mountain, descending on head torches in some pain given a badly bruised hip, but it was worth it.
It is a favourite walk and I have many good memories of it in all conditions. Some wearing shorts and treking sandals to full winter gear with crampons. It was the last major walk I did with my parents many moons ago; they returned to the car and I went on to meet them in Dolgellau. Sometime next year it will be the final ridge on my round and back though Wales walk. One of the most memorable walks was way back in University days. I was home and determined to walk despite heavy rain, on the basis that there is no such thing as bad weather only poor equipment. I drove down early to make a dawn start given it was mid winter and chatted with several others doing the same thing in the car part at the foot of the trail. There is a special camaraderie at a trail head in bad weather and we settled on staying together for the walk. We got to the clapper bridge and ended up changing our plans. The stream was full of water and almost covering the slab and it was self evident that by the time we returned it would be impassable. So we decided to take the less desirable, but safer, anti-clockwise routing.
As we crossed over a school party came up behind us, more conscript that volunteer from their general demeanour, and started up the guidebook routing. We challenged them but were told by their leader that he was following the designated route. Several hours later we came back to find, as expected, that the stream was in full flood and the bridge was not visible let alone passable. the school party were on the other side and the leader was trying to persuade one of the larger boys to solo over the stream with a rope. Now that is not the way to do it. We went back up the valley a little and created a human chain to cross over. We then assembled the lids and followed similar guidance to this (useful) document got everyone over. Interrogating the teacher it turned out his qualification was a one week mountain leadership certificate secured in summer. He had no experience that allowed him to exercise judgement, but his training, not to mention his previous certificate, gave him over confidence.
Now the lesson of this should be pretty self-evident, theoretical knowledge without experience is a dangerous thing. But I want to drawer a large lesson here related to collective experience. I'll spell that out tomorrow.