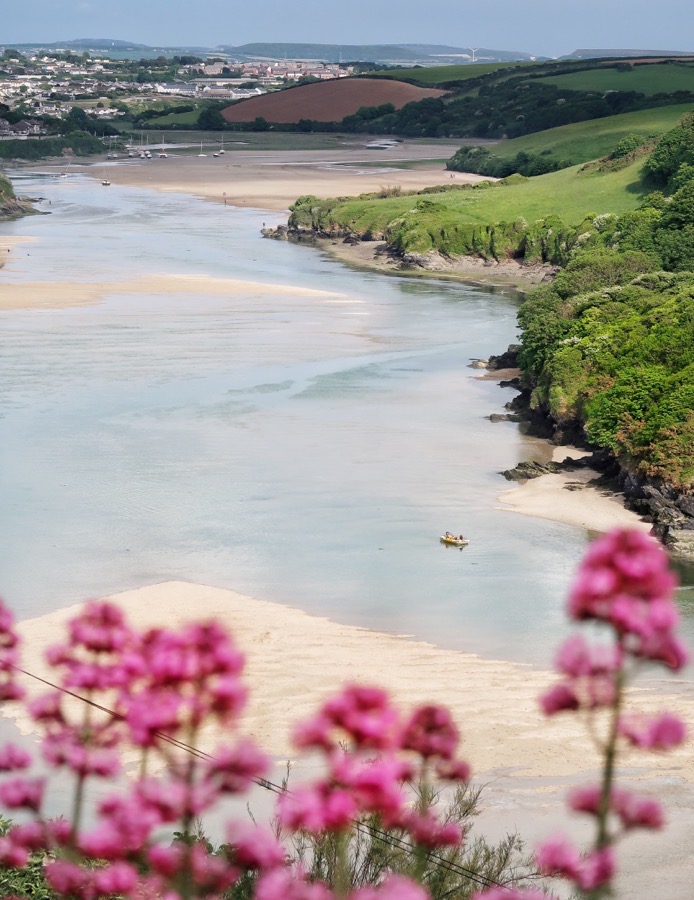 The picture of the Gannel Estuary to left brings back memories of a slightly fraught day on my trip around the South-West Coast Path.  Crossing the estuary on foot requires fairly precise timing as the title bridge is covered two hours either side of low tide.  given the need to have the car at the end of the walk and the limitations of local bus services I ended up parking at New Quay Station and taking the bus to Mawgan Porth for a brisk six mile walk back and then drove at speed to Perranporth to get the bus back to New Quay and just made the tidal crossing window before completing twelve miles so eighteen overall that day and around two and has thousand feet of climbing.  Walking a coastal path on your own involves a lot of such intricate planning and to be honest that is half of the joy of it.  In effect one is juggling a complex set of constraints and finding a path through those can involve some very creative thinking, not to mentioning backup arrangements in case execution and planning don't work well.
Now the subject of constraints was on my mind this morning as Alicia had sent me an extract from her new book, freshly dispatched to the publisher; Context Changes Everything: How Constraints Create Coherence. MIT Press, forthcoming if you want to look out for it, and I will be citing the material in the work I am doing over Christmas; also if you have not read her first book, do.  As far as I am concerned it is essential reading for anyone who wants to work in complexity theory.
Now as most people know I used Alicia's articulation of the idea of governing and enabling constraints in Cynefin and I think (hope) I am pretty good at acknowledging that source.  But the problem I am increasingly encountering is that the minute you mention constraints people assume you are talking about Goldratt's Theory of Constraints (ToC) and then we get into the whole idea that constraints are things that have to be removed in order for flow to happen.  Now this isn't completely authentic to Goldratt, but ideas when they get industrialised end up being over simplified.  We even have a particularly shallow–way to managing complexity which tries to de facto use it as a synonym for complicated, using Goldratt as an authority with out-of-context quotes.  More on that next year by the way and read Steve Holts article in the Cynefin Book if you want someone who knows that they are talking about then it comes to ToC.
Now all of this game out in a brief email exchange with Alicia which went as follows:
DS: One of the bigger issues that has come up is getting people to move beyond Goldratt when you talk about constraints and I am starting to wonder if, like the 'knowledge' word its being lost
AJ: (of Goldratt) he never differentiates between Enabling and governing constraints, for ex, or context-dependent and context-independent."Identify the constraints" … huh?
DS: And therein lies the problem for most people constraints means Theory of Constraints
AJ: ToC It may be a problem for you. Not even on the radar of scientists and philosophers. 
And maybe now you get a sense of the problem those of us have who don't want the discourse of organisations to be as separate as it is from that of scientists and philosophers, but who equally don't want to compromise meaning with simplistic language.
So over Christmas I am working through options – the estuarine model and a whole set of language and ideas that need to come together in some coherent form:
The typology of constraints in the field guide
The typology of scaffolding types we developed while working on design thinking
The idea of buffer stock in human decision making
Counterfacturals and Constructors from the theory of the same name
Assemblages and territoralisation from Deleuze via DeLanda
Aporia from Derrida
Agency and Identity
Affordances
ASHEN (a typology of knowing)
And almost certainly many others.  creating coherence (should have added that) to this melange of language and concepts is my Christmas Task.
For those interested the general subject of this years 'Twelvetide" posts will be that of rituals, habits and hunches.  Ideas and requests welcome
---
Banner picture is cropped from an original by Boris Misevic
Opening picture of the Gannel Estuary is by George Hiles both on Unsplash