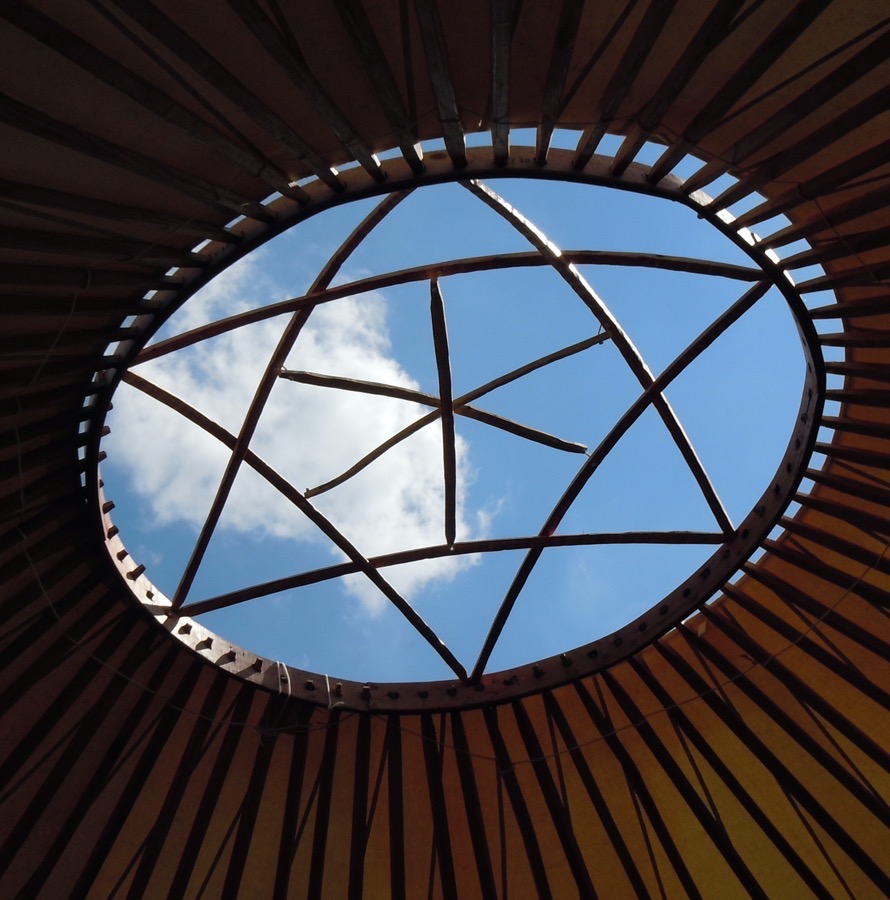 I wrote about the significance of HTLGI in my Christmas Blog series on sacred places two years ago.  Then I was anticipating the 2020 festival but a couple of months later we were in lockdown and the Festival went online.  I enjoyed that but it wasn't the same.  Today I was reminded of the pleasure of walking through the fields adjacent to the Wye, meeting and talking with strangers, and interacting with speakers: this is a very intimate event in the main although less so than in its earlier years.  I miss the early days when it was in a smaller area closer to the centre of Hay but the early days of any Festival are always more exciting.  As it happens my daughter is at a Mountain Festival in Bulgaria at the moment, we were working on a narrative/meditation session she is running there a few days ago and we've talked about this, the value of festivals and the benefits of living in communities in general on many an occasion.  My dream is to move to Hay, to be part of the community of this Town of Books with the adjacent Black Mountains but for the moment that is just a pipe dream, I am afraid.  But if I could find an investor I think I would set up a retreat and conference centre here, in the border lands between Wales and England, with a mission to explore the wider field of sense-making by bringing people together for exploration.
But now the festival is back with the added bonus that it allows this republican to avoid the whole Jubilee nonsense.  This year we have a five bedroomed house to the north of Hay, too far away to cycle in every day so I didn't have to pack the bike.  I have a well-established routine involving crates on the kitchen table that precedes any trip to self-catering.  They generally come out a week before and I start to stock them as things occur to me.  For this festival, alcohol is a key element with wine, wine and rum my contributions.  We are staying on for the week after the festival, which includes one evening at the Longborough Opera Festival for a performance of Siegfried and some hill walking so I adopted the lazy approach one does to packing when the car is involved, throwing more or less anything I may need into the book.  Then a small overnight bag as I am in a Bed and Breakfast for Thursday night – a real delight by the way and by one of my favourite pubs in the area so I strongly recommend it.  A very comfortable modern room that promises a good night's sleep and I will report on the breakfast tomorrow!  The journey normally takes a couple of hours but the extra bank holiday and half-term holidays meant the roads were a nightmare so it took me three and my plans for a leisurely lunch before the first session were dashed.  I made the 1530 session with three minutes to spare but I made it.
One year I live-blogged each session using the iPad but while I got through that I decided never again!  But I will as a minimum write a daily blog which will be a mixture of the stories of those of us here and the sessions I attended.  So, to summarise today's sessions:
The AI Hoax
This was a lecture by Mazviita Chirimuuta of Edinburgh University and if you read her CV you can probably guess why I was keen to make the session.  She addressed the wider field of what is intelligence and made a critical point about the dangers of Cartesian Dualism. Descartes in effect demoted the role of the soul from the various evolutions of Aristotle's view that the soul animates the body to one in which the body is a container for the soul.  Once you take that position then things like the singularity become attractive as you are just changing the container.  I've always said that if you believe in the singularity then your biological side has probably ossified to the point where for you it may be possible and nothing has changed my view on that.
Rather than seeing intelligence as some property of humans and some animals that you can seek to replicate, she saw it as "a pervasive property of living beings" in which cells are proto-cognitive, learning is properly understood in terms of brain plasticity and so on.  The biological nature of consciousness, its embodied and enacted nature is something I have referenced many times and she used it to support her contention that Artificial Intelligence is a misnomer, replication is not creative ability and she also addressed that issue with some of the NLP claims to creativity in machine use of language effectively debunked.
The other main point she made is that humans, in their use of machines, create an ecosystem to support the economical potential of said machines – we build roads for cars and so on.  Machines have an economic impact when they replace humans in tasks, but this change of the ecosystem to it accommodates obvious now she said it, but I hadn't really realised the significance in the AI debate until she expanded on that.  Deep learning requires narrow tasks and specific imitative objectives and measures of success.  That stimulated a lot of thinking and writing in my notebook in green ink (I use a simple system of black or blue to record what is said, green for my thoughts and red for things I need to do).  The machine and manufacturing metaphors that dominate management thinking = and concepts like mental models and mindsets are potentially creating an affordance for human intelligence to dumb itself down to the level of machine intelligence.  A long time ago at a conference when I was having to deal with one of the Singularity Androids (sorry a fellow and respected speaker) I remember suggesting that he was probably correct to say that machines would pass humans in intelligence, in the main because if people followed his approach we would be meeting them halfway.  It took him some time to work that out which made my point for me!
One thing which occurred to me – and I asked a question on this – was that one of the things with AI-driven Social Media is that our artefacts are creating pathways to channel our intelligence in respect of extended consciousness (Andy Clark's point about scaffolding) and I got an agreement to that.  But the following questions were all very naïve ones about the potential of machine learning most of which indicated the questioner had not really listened to the lecture!  If you want one key phrase to summarise what she said it is "getting the form of language without getting the meaning".  That is important and it's something I will return to in future posts.
Three disappointments
I went to two other sessions, one by Ben Burgis on Logic for the Left and another by Calvin Robinson on Democracy is Dead.  One from the left, one from the right and both seeking to make some name for themselves by creating controversies in their respective communities.  The third I didn't formally attend, but I sat outside with a pint, was Matt Handcock seeking to rehabilitate himself with an extended session on his Philosophy.  You had to admire his bravery as Hay is a pretty left-wing event and he was suitably derided.  Ben did make a point that you have to engage with people where they are and in effect adopt a Socratic technique of bringing out the implications of far-right ideology, but the way he handled the Woke issue didn't impress.  Robinson to be honest confirmed my impression from some of his writing to wit he is either an idiot or a skilled propagandist for the far right, or possibly both.  His basic theme was that looser consent was key to democracy, towit accept Brexit and Boris.  When challenged on the legitimacy of lies such as the famous Brexit Bus he tried to make the case it wasn't really a lie.  He did, when pressed, say that politicians should resign if they break the code and that Boris had done just that.  But you ended up with the impression that these were two speakers who had turned up to repeat a too often repeated standard performance to promote their books, with the odd sound bite thrown in.  You always get a few of these at the festival and you live with them.  Whatever they didn't deserve a specific summary of what they said.
---
The picture of the sky was taken by me at the 2011 Festival and I spent most of this afternoon in the same tent – nice to have some continuity!  The banner picture was taken today while enjoying a pint between sessions looking towards the River Wye but listening to Handcock in the background.