Tag clouds were a popular web visualization fad about 3 years ago. Wordle.net provides a really easy way for you to make and share your own. But rarely is seeing the most frequently-used words in a piece of text very instructive.
Today I figured out how to compare two wordles using python. The difference between two sets of information is far more useful than the information in either text alone. To illustrate, here is an analysis of two rape prevention programs in Nairobi, Kenya.
The Mrembo Program teaches pre-teen girls about boys, sex, and staying healthy in the poor Nairobi neighborhood of Kamukunji. Sita Kimya!, which means "I will not be quiet!" is a USAID-funded program to encourage "young men in Kibera to challenge each other to reject violent behaviors towards women." — according to USAID. But according to another blog, "Sita Kimya! refers to the vow one should give to not stop yelling if they know sexual abuse is occurring around them." Which version is right? Maybe these 258 stories collected through the GlobalGiving Storytelling Project will provide a truer view.
Words from the set of 87 Mrembo stories, with the Sita Kimya story words subtracted out: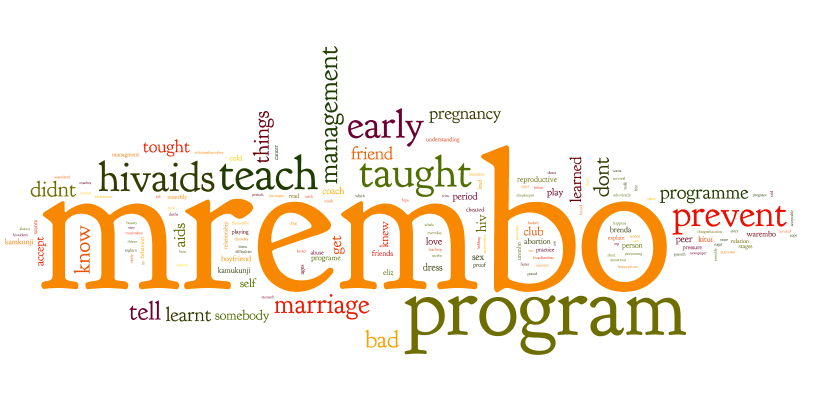 Words from the 258 Sita Kimya stories, with all Mrembo words subtracted out: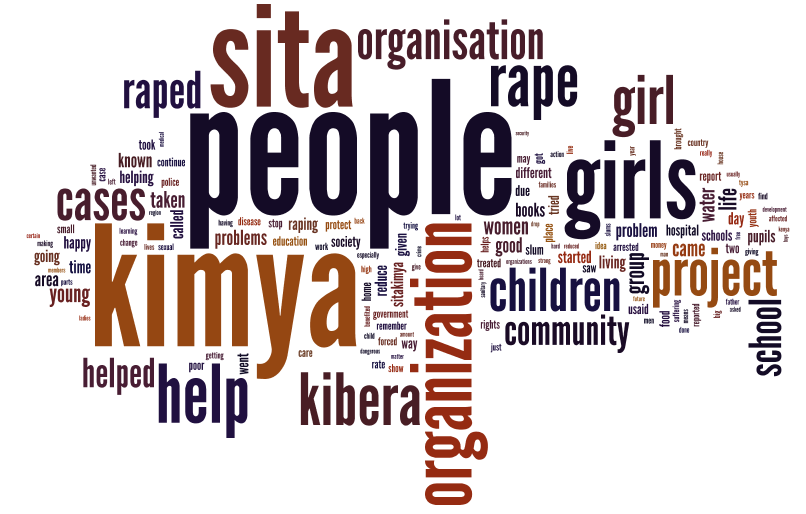 Conclusions
While not shown here, an important distinction between these two story sets is that Mrembo's stories come almost entirely from girls (ages 8-13), and Sita Kimya's stories comes almost exclusively from men (ages 16-30).
Mrembo program emphasizes teaching girls about HIV/AIDS, early marriage, and avoiding bad situations so that one avoids rape. Stories are about what the girls in the program learned.
Sita Kimya stories emphasize rape cases involving girls from a man's point of view. Schools, community, and organization appear to be a common part of the stories. Seemingly esoteric topics like books, water, and life also get mentioned.
Most astounding: When Sita Kimya men talk about rape, the idea of early marriage and HIV/AIDS is absent.
Because Sita Kimya's stories come from men, and these men don't appear to share stories of having to face to choice of staying quiet if they are raped, the USAID description is spot-on and the blogger's description is erroneous.
Who offers the broader perspective?
Both groups share stories that reflect success and failure, but Mrembo girls are a bit more likely to think of their story as somewhere in between:

[This image was made using SenseMaker(R).]
Here are several more detailed analyses of these programs, and rape in East Africa:
Mapping stories about rape across east Africa
Comparing two rape prevention programs: Mrembo and Sita Kimya