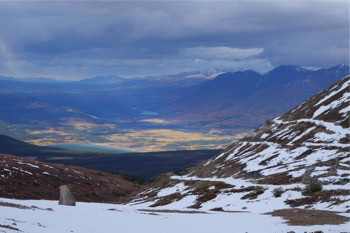 Since regaining fitness I've kept a pretty rigid discipline of exercise, either with the bike when I am at home or long distance or mountain walking at home or overseas. I really wish I had got my act together earlier as with a little bit of planning you can easily get to see some spectacular scenery, make new friends and gain experience if you travel a lot. I've now walked the Queen Charlotte Track in New Zealand, the Precipice and Coastal walks in Australia, Golden Gate in South Africa and many others. Today was no exception and was part of the attraction of coming to the Yukon for the first time. My host Barrett promised me a walk and I got one! I hadn't realised just ow beautiful the Yukon is, especially at this time of the year with the yellows of autumnal aspen trees and the red of cranberries making an already spectacular landscape a riot of colour and texture.
Also walking overseas you start to understand the different impact of scale. To even get to start of this walk we needed a four by four capable of getting around wash outs in crumbling mining tracks. I'd have parked up and walked the final two kilometres but for the locals this was minor. During a long rough walk involving deep snow at times we saw no one. Grizzly Bear tracks had crossed our outward foot prints and as you will see the desolation of the area carried its own beauties and sense of threat. I'm not sure I would want to walk on my own here. Our initial route from the trail head involved using the side of our boots to cut steps into a fine mud/scree slope high above the valley floor before an easy walk to the snow line. Form then on I was glad of gaiters and winter wear as increasingly my feet would break through the crust of the snow to end up knee deep.
As we zig zagged up the slope of the first peak of Montana Mountain we came across a mine shaft at 2000 metres. All the tracks here are exploratory or exploitative mining trails. I was reminded of the mining tracks of my own Snowdonia, in particular the long hard weekly walk from Bethesda, over Bwlch Tryfan and the Gliders to the foot of Yr Wyddfa that the miners undertook. Simply being in the Yukon gave a sense of the vastness of the enterprise of coming into this wilderness for the first time. In fact mines and mining are a part of the landscape here as they are in Wales, Yorkshire and Cornwall back home. The casualty rates were of course appalling, but there is always a solidarity amongst miners as there is amongst mountain walkers. You can only survive in environments like this if you both respect the land, and your fellow travellers in these lands. Accordingly we did not make the peak, but we made the summit ridge by 1500. The path on was under heavy snow with at least one cornice, and a golden rule in these conditions is to turn back at the point where you know you will be comfortably back before dark so that is what we did, not without regret. The upside was a wonderful cup of coffee at Caribou Crossing on the main Yukon highway followed by Alaskan Halibut a couple of hours later along with the local beer; another reason to return.
Full pictures here
Other pictures from the week in Yukon here (and I am coming back so expect more in the future)