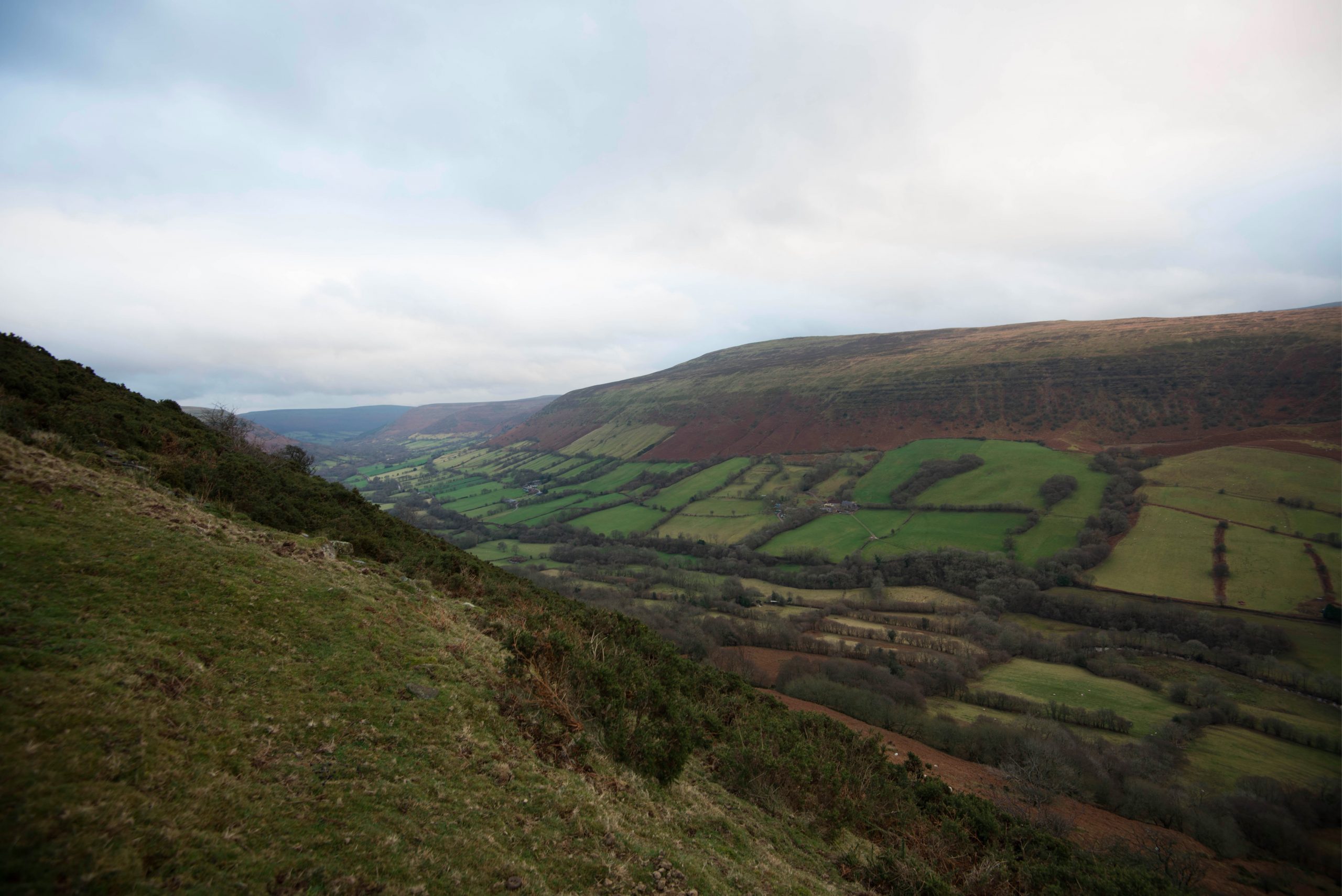 A couple of days ago in my first post on meaning I used a photograph taken on a walk with two good friends on the 2nd January over Camarthan Fan from the boggy wilderness of the southern approach. My picture today was taken two days earlier on a solitary walk around the Vale of Ewyas in the Black Mountains of South Wales. It is a favourite walk and times a challenging one. On this occasion the last hour was spent negotiating slippery mud slopes with a head torch given a late start.
It is a beautiful valley with a long history. I started the walk at Llanthony Abbey, to quote the 12 Century writer Giraldus "more truly suited to monastic discipline than any other monastery in the British Isles". An Augustine Monastery it now accommodates a bar with excellent beer (regrettably now open when I got there) and a hotel which prides itself on not having television or internet access. At the far end of the valley, the half way point on the walk you come to Capel-y-ffin (chapel of the boundary, one of the, if not thee smallest chapel in Wales. Built in the 18th Century, replacing an earlier 15th century building it was described by Francis Kilvert as resembling an owl. A favourite lunch spot it is a peaceful place at any time. Also interesting as it is linked with artist Eric Gill who designed the typefaces Perpetua and Gill Sans in the Anglican Monastery built in the 19th Century by a noted eccentric. It is also associated with the poet and artist David Jones. His In Parenthesis is one of the most profound of many profound poems to emerge from the First World War.
Now I've given some of the history of the place, and it a history that has unfolded for me over he years as I have walked around and through the Valley. You could spend a week there and hardly cover the same ground either physically or in a wider sense, spiritually. It is a place with considerable presence, to walk there is to gain meaning, to have a chance for reflection and insight. I have walked it on my own, with family and with friends. I've been there in all four seasons and in many different weathers. It is a place of many and multiple belongings and as yet undiscovered opportunities.
Now this is not the only such place. The Ogwen Valley is not only beautiful, but has the harsh and bitter history of the mining industry and a more modern film location for dragons and Doctor Who. We find meaning in those places, in the history of other peoples' interactions with them. It is a part of how and when we create meaning through participation, through an awareness of something larger than ourselves.
The walk in question