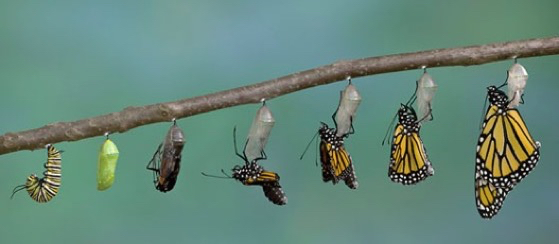 I was reminded of the Daoist quote of the title while reading Embracing Complexity over the weekend. I knew it was one of Peter Allen's favourites and he uses it to good effect in the book, parts of which are excellent. A few chapters are problematic but its worth buying and it is going on my list of good books to read if you want to get some of the basic terms and principles of complexity. I will formally review it later in the week and I'll be making a few links to it over the next few days. I've also chosen a metamorphosis image which shows path dependency, in a evolutionary process you can never go backwards and start again, you are where you are and an opportunity may not come around again. It is not just a Daoist concept, the Epicurean Carpe diem, quam minimum credula postero is probably better known, and one of few phrases which has stuck with me from O Level Latin.
It was an important aspect of the presentation I gave yesterday at the Flourish OD conference here in South Africa. They were fairly tolerant of my hitting a few sacred cows (such as the Spiral Dynamics nonsense) and very responsive to new ways of thinking and acting. One of the strong points I made is (which was part of an excellent tweet stream from Louise van Rhyn) was that we need with Organisational Development (or any other type of development for that matter) focused on achieving change rather than being part of a community that only talks about change. That was an extension of a point I have made many times before, namely that idealistic future goals doom you to dissapointment and cynicism; further that defining what sort of people other people should be is both patronising, paternalist and post-colonial. You will see that later point expanded in the first post in this Theory of Change series.
A key part of that is the need to start with where people are, not where you would want them to be. It also involves staying at a high level of alert to the nexus moments where it is possible to intervene and make a change, hence the title of this post. Now you don't have to do that as a change consultant, you can create systems that have greater creative capacity by allowing decision makes to discover those possibilities for themselves. There is a huge difference between telling an executive that something needs to be done, and placing them in a situation where they see not only the potential for change, but also ways in which that change can match their understanding and unarticulated (that is a key point) goals, or rather direction.
It is one of things I have seen with SenseMaker® projects when you provice a decision maker with the opportunity to explore micro-narratives and observations through fitness landscapes. People of all levels are curious when you give them direct access to customer and employee stories. Especially when we allow them discovery through simple representations in which they can see patterns and outliers and then read or listen to the selected items. Most people will know the pheunomina of the leader who goes on a visit to a remote outpost and comes back with missionary zeal advocating the adoption of a practice from a single story of conversation. By making many stories available, we draw on that enthusuasm but make the choices more objective.
It is all about nudging not yanking, enabling not advising and being open to different insights from your own based on different perpsectives. The OD practitioner is focused on development, but the Executive they influence has other concerns and needs. In looking at data around an inernal change initiaitve they may see the opportunity to change the relationship with customers and come up with a different intervention than the one you planed, hopefully compatible but criticially it is their initiative. If it will indirectly allow you to achieve a change of direction albeit less directly or at slower speed than you wanted then so what? Discovery is better than direction, and a path chosen by an informed decision maker is more resilient than one they accept without full commitment.