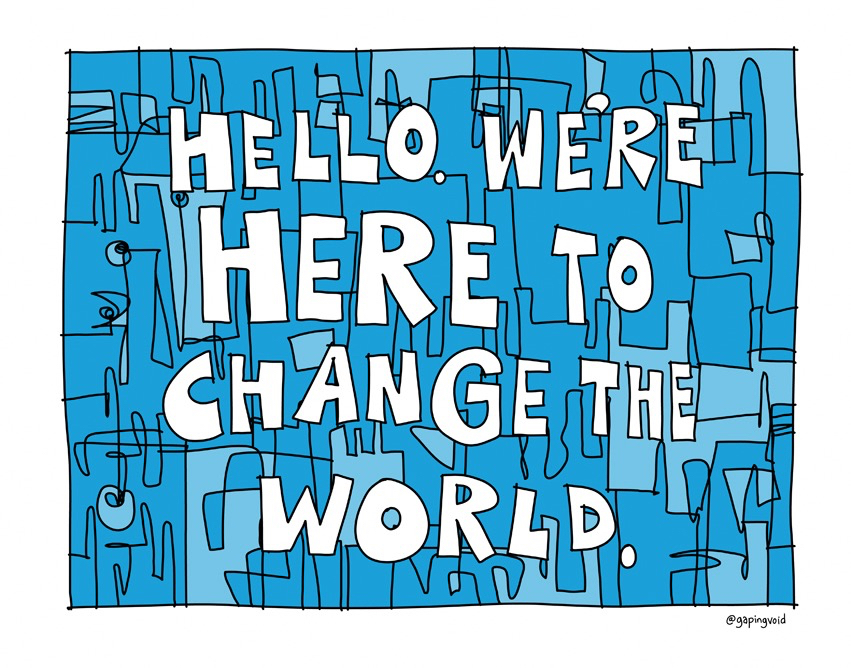 Sometimes a little ambition is no bad thing, even if we start small. My post on Wednesday indicated that we were about there with an ambitious new programme on Meaning. This has been something that has been growing for some time as an idea, but the need has been accentuated by recent events on a world stage. Meaning making is important for humans, and meaning exists in multiple connections between our families, our friends, our heritage, our physical environment and so on. If those connections become perverted or fragmented then we suffer, but so does the wider community and the world itself. The echo chamber effect of social media makes perversion through limited self-reinforcing feedback loops even more dangerous.
So we are putting together a programme, not to define meaning, but explore the current state of how meaning is made, and to explore the evolutionary possibilities of how that could develop over time. Our other major Cynefin Centre programmes on Citizen Engagement and the roles of Sports has a clear focus, but meaning is a little more abstract at the moment. After a lot of thought and discussion we have put together a generic programme with around twelve separate study areas. Those include ecological issues, the role of craft, role of religion, health, the impact of technology and so on. A very early draft web site is now open to public scrutiny. It is not the final form, we are now eliciting feedback either on the site or via email.
There will be a public event to explore this in March and that event will also get us to the point where we can finalise the programme. It will be available for booking shortly and it is being run on a cost recovery basis. The dates are 13th to 14th March in Bangor, North Wales and we will have the booking site up shortly. Indications of interest via the comments field of this post or the email above would be appreciated. The event is worth running in its own right and I'm excited by some of the faculty we are attracting to it.
Enough from me, Emma and Ellie have put the basic material together and we have a website. Just to be clear (i) we know it needs a better design and (ii) the wording will need modification. We are putting it up now to engage a wider group and get that feedback. If anyone wants to volunteer services as well feel free!
Cartoon from Gaping Void, opening picture is one I took earlier this week – it seemed appropriate