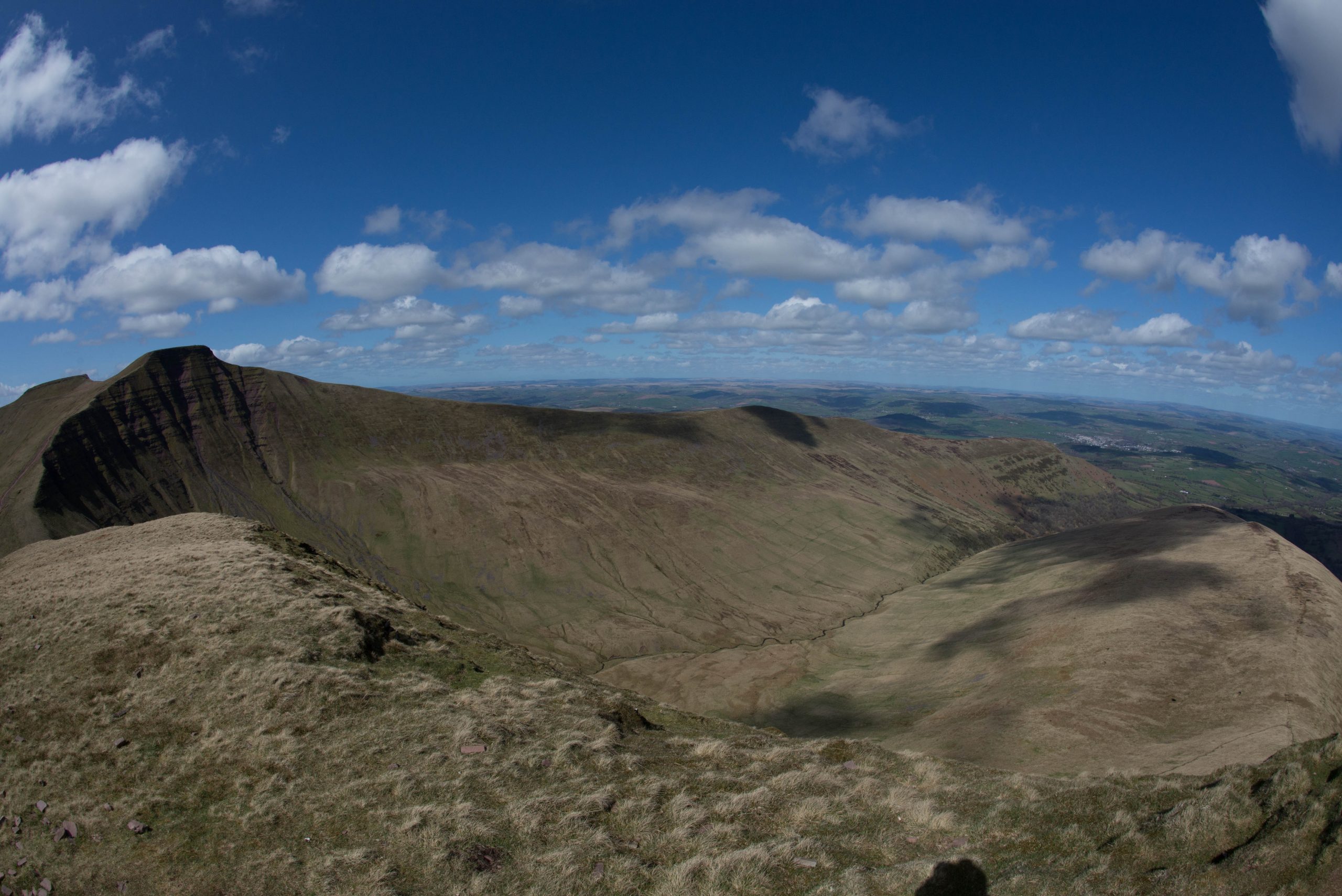 The last few months have seen restricted opportunities to walk. Last year at this time I had recently completed the Offa's Dyke path and spend a week climbing in Snowdonia for my 60th birthday. The difference means that I have put on some weight and lost fitness so I am back on the case. Today looked good and while I didn't get home from Russia until after midnight we have longer days and I simply got up and headed for the Brecon Beacons. I thought about the route while driving and decided to start from the small carpark graced by Waterfalls at the foot of Crai y Fan Ddu. The last time I was here was at the end of a two car walk with Euan Semple. That was in winter and we had descended at twilight after a snowy trek the length of the ridge from Story Arms. Now in Summer I had more time and I had options. I could follow the guidebook advice for the Torpantau circuit and exit via the old Roman Road to the Neuadd reservoirs. But I hoped to carry on over the tops and complete the descent of Graig Fen Ddu thus combing two guide walks namely the Torpantau and Neuadd circuits. I had options to skip the peaks of Fan y Big, Cribyn, Pen Y Fan and Corn Du if I wanted so I was pretty sure a good day was possible.
Now there is a big difference between the Brecon Beacons and and Snowdonia. On this walk I made all the peaks, plus some with no short cuts and overall climbed 3,500 feet. But there is a big difference between a motley collection of short climbs and one long steep one. A few weeks before I climbed the Watkin path up Snowdon descending the South Ridge and that is unrelentingly up. Today was a lot easier, a sharp ascent from the car park and the glorious ridge walking on good paths that is a feature of the Brecon Beacons before a series of shorted climbs culminating in that Pen Y Fan and the crowds, for make no mistake on a sunny weekend that summit is always crowded. New Year 2014 I went up for a sunset that never arrived in pouring rain and with gale force winds. I was knocked off my feet two or three times at the top but I still had company including two people in shorts. Popularity looses a mountain some dignity in summer however and I hastened away from the tourist tracks to the descent of the westerly ridge that encompasses the Neuadd reservoirs. One of the best walks up or down in the area.
So it was a good day, although I was late back. However this combination of routes is a good one and I will do it again in winter although with an earlier start. A lot of it is lonely which I like and the views are brilliant. I'm also carrying three lens these days and I have fallen in love with the 16mm FX for landscapes (one shown). I'm thinking of getting a 50mm as well and giving up on the zooms for landscape photography especially in poor light. With the new Nikon 600 the quality is excellent and I suspect those two lens options would do most things, carrying the long telephoto in the rucksac in case of need. I don't use it much on the mountains but for birds, deer and the odd foreshortened effect it is worth the weight.
Tomorrow to Nice which is a pity as I could otherwise have made another day of it. I am also more than aware that I really need to get back to the Round Wales walk. I'm stalled at Porthcawl at the moment and really want to do the Pembrokeshire Coastal path and get up to Porthmadog this year if I can.
Full set of pictures (including a screen shot of the full route)