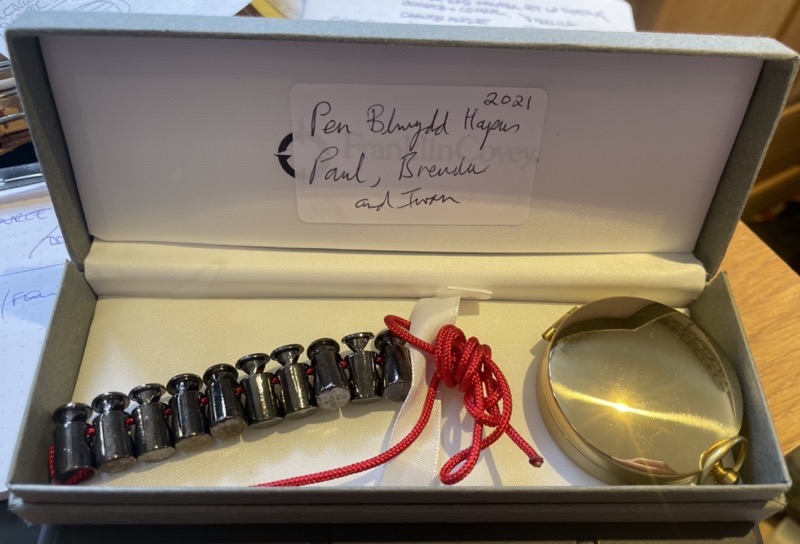 If you are of a certain age you will remember reciting your times tables in class and acquiring all the little tips you got taught to make mental arithmetic easier.  Now I have no idea if this is still taught, and if it is taught in the same way.  I doubt it and I always liked Tom Lehrer's satirical song about new maths: As you know, the important thing is to understand what you're doing rather than to get the right answer.  While I am in a Luddite mood I think it is at least arguable that going over the metric currency and measures had a negative cognitive impact on the British population.   I belong to that cross-over generation that lived through decimalisation back in 1971 and earlier, the move to SI from Imperial Units if you were doing science.  So in terms of day-to-day life I tend to think in terms of feet and inches, pounds and ounces and so on, although rather perversely cycling sees me use kilometres.  However all the exams I passed in maths and sciences from the late sixties on.   My hypothesis is that the mathematic dexterity to manage multiple variant units had a positive cognitive impact.   We also learnt rote : sixteen ounces one pound, fourteen pounds one stone, eight stones one hundredweight, twenty hundredweight one ton.  We also had fractions …
Remembering that my big theme in this series is about energy minimisation, a key aspect of the new work on constructors and constraints is to argue that whatever has the lowest energy gradient will win out.  Evolution tends to the conversation of energy and we need to think a lot more about this in terms of strategy.  So in terms of numbers and ritual, there were two strategies.  The first was rote learning, creating the cognitive capacity; the second was to simplify the overall task – decimalisation.   Even there the whole replacement of slide rules with computers also had consequences, as I have argued before.  Yesterday I talked about social rituals in respect of wider issues of knowledge and social stabilisation techniques such as marriage.  Today is a similar theme namely that we reduce uncertainty through symbols and ritual, and further repetition (always to a degree a ritual) is key to the acquisition of an understanding of symbols.
It also links back to habits, habits of mind, body and culture.  I've had the ice axe on the rucksack just in case this week but that would not have high utility if I hadn't spent considerable time being trained on how to use it to do an emergency arrest.  That involved falling (or being pushed) any which way down a slope with multiple orientations until my body learnt to not only carry the ice axe ready for immediate deployment but also to deploy it instinctively in an emergency.  It was also an adaptable skill as I found in the accident on the South West Coastal path involving getting caught up in a landslip.  If you read that, you will also see other habits coming into play to manage potential early-stage exposure.   The picture at the head of this article was my birthday present last year from three good walking companions and there is a partial reference to ongoing banter about navigation and the like.  One of the key navigation skills is the ability to estimate distance and I learnt to do that by counting sets of ten paces trying as far as possible to keep to a regular pace.  But Iwan has a set of tally counters (see to the left) and that reduces the uncertainty.  An artefact helps the habit.  So when to use such aids and when not?  Well I know have one of those and it goes with the other navigation aid – not the birthday present, that is precious and is staying in its box.  It is my equivalent of Adam Lambsbreath's little mop – far too good to be clettering the dishes when a hazel twig will do. (If you don't get that go and read the comic masterpiece Cold Comfort Farm).  Artefacts, processes, changes in symbol structure.  We have a rich body of intervention techniques to balance out energy use.
I am also making a general point about the danger of throwing things out (especially if you think you are being rational in the Enlightenment sense of that word) without fully understanding the unintended consequences of abandonment.  Some things, once lost cannot readily be restored as they evolved in the first place, in general, most rituals were not designed although that is not the say that intentional design was not an element but in the main, that is to codify at the right level of abstraction to allow wider diffusion (a Boisot concept here to which I will return).
---
The banner picture shows the remnants of the china clay works at Porth Llanlleiana on the section of the coast path between Amlwch and Cemaes (one of the two best sections on the Môn coastal path.  It's odd to realise that this small port was once a major industrial site exploiting the china clay in the adjacent hill.  I've always been curious as to the reason for the two crescent moon sea walls and have yet to find an explanation, so if anyone can help please do!  Lleian is welsh for nun and one of the oldest churches in Wales dedicated to St Patrick who is said to have founded it after being ship wrecked.  It's worth a visit in its own right if you are in the area.  It's a church which is very typical of North Wales, small, intimate and linked to the community.   I've added a picture taken in haste during a minor cessation in the rain.  
Conditions in the Mountains were bad today so I parked the car at Cemaes and took an early bus to Amlwch hoping to make the walk in the brief window of good weather the Met Office offered.  Given the westerly wind, I would have preferred to reverse the walk but bus times did not allow it.  So when the weather closed in early I found myself walking into heavy rain driven by gale-force winds so ended up sodden and cold, but only twenty minutes from a hot shower and cup of tea.