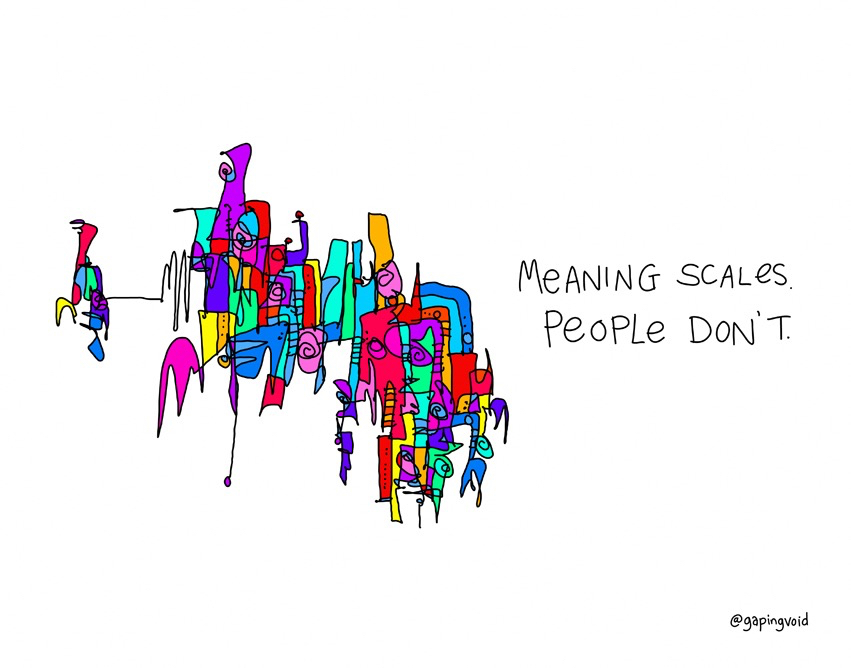 Some years ago I was at an Academy of Management meeting in Washington DC to receive an award for original contributions to the field of knowledge management. As a part of that I had to make a presentation of an early version of Cynefin to a well educated audience and get immediate responses from Max Boisot and J C Spender, neither of who take prisoners. Many years later JC and I shared a stage in Barcelona to give tribute to Max's life. The main theme of JC's response to my presentation was to say that I was making meaning a problematic world in the same way that knowledge had become problematic in the previous decade. It was a complement, when words become problematic it means we are exploring deeper level of (sic) meaning in the concepts they trigger and represent. He articulated something I was starting to intuit, namely the question of how to we create meaning which links to the wider question of how to be make sense of the world in order to act in it. That being my definition of sense-making and one I've been comfortable with for some time now.
So in the eight post in this series and the first in 2019 and I want to argue that both ethics and aesthetics (my two themes of this series in case you had forgotten) provide meaning in our various embodied acts of meaning in an increasingly fraught socio/eco-system. In a real sense I think the search for meaning is part of what it is to be truly human. In that context aesthetics allow us, through abstraction and a sense of the other allow us to move beyond the mundane and the material, with ethics should bring us back to reality of our responsibilities in respect of social actions (both proximate and remote) and with the environment in which the concepts of stewardship and sacrifice are necessarily entwined. I'll unstitch that last sentence later in the year by the way in a reflective review of Terry Eagleton's latest book. Complexity theory in the main argues that interactions are more important than agents, and in my view agency is my ethically engaging in those interactions rather than focusing on the needs of the agent. To have meaning, is to help others make their lives meaningful. That also involves the responsibility to future generations to create both moral progress and environmental sustainability. In both cases 2018 wasn't a good year for humanity.
In that context aesthetics are key, they allow us to to use abstractions to see things from different perspectives, to represent the common place and make it extraordinary, to inspire and initiate change and above all to ask questions that require more than the common place answers of habit. Meaning making in humans has always involved art, ritual and multiple levels of social interaction from the mundane needs off survival to the reflection on the the nature of existence itself. We make meaning by a constant need for discovery and exploration, by reflection and, yes, rhetoric. Without the means to explain, to teach, to inspire there is no meaning.
Tomorrow I'll look at habit and touch on habitas, but now its time to head for the hills for my new years hike. Walking in the hills encompasses embodied abstraction and for me at least is a key aspect of personal resilience and a means to gain perspective.
The banner picture shows Snowdon (on the left) taken from the south. A circular walk encompassing Cnicht and the Moelwyns which I plan to repeat today, at least in part. The picture comes from a delightful part of the walk that passes many small lakes such as this and former slate mine workings before ascending to Moelwyn Mawr.