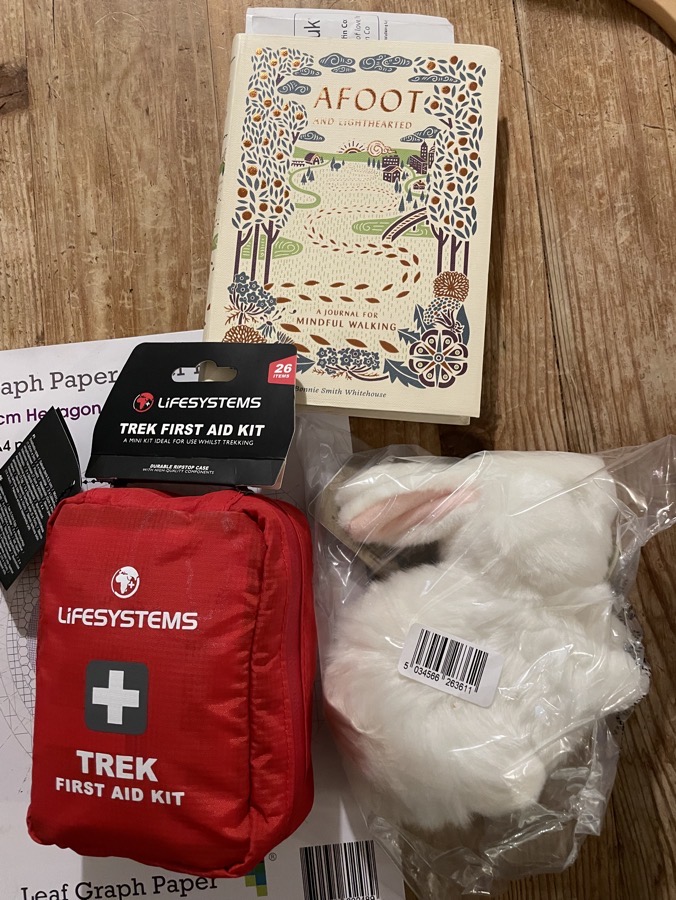 It's become a Christmas tradition for me to write a series of posts around a single theme.  I've covered food, welsh poetry and other subjects  and last year I did a general update on the wider body of knowledge which is naturalising sense-making.  This year I asked for suggestions in our Cynefin Company internal slack channel and the idea of looking at habits and rituals seemed to resonate with people.  Last week I added hunches to that as it will give me an opportunity to talk explore abduction and its ability to break bad habits, or to be precise bad habits in context; there is an ambiguity to the nature of habits which has utility.  Ritual reinforces habits and triggers habitual behaviour, but can also be used to break them.  So they are all in various ways connected and I want to explore them in this series.
To be clear I haven't planned this series out (last year I did) as I am more or less in a process of discovery.  I'm currently esconsed in a holiday cottage on Môn with a plan to spend good days in the mountains of Eryri, less good days on the coastal path and really bad days reading and writing (but with at least a brief walk).   So each day I will use a picture from the days walk in the banner and something apposite as the header.  Much of the time getting a blog post written is spent in choosing the pictures, or maybe the process of choosing the pictures helps me structure my thinking.
In this first post I want to start with habits and their nature.  I first studied this at University when I complained about poor quality summer essay topics in the Aristotle and Plato course.  It had a lecturer I really didn't like as he generally read chapters from his book (which he also set as a text) rather than lecturing.  I also choose to study Philosophy because I fell in love with Plato's symposium and the course failed to live up my to my aspirations so I was in bolshy mood.  My challenge resulted in a Write whatever you want as long as you start with Aristotle and in response I chose to write on habits, and in particular the habit of virtue.  That actually worked out well and I got a good mark and a rocky start to the relationship was overcome.
In order to get ready for this blog I pulled a few books out of the Library and came across Clare Carlisle's 2014 book On Habit.  I wish she had published this back in 1973 as it would have saved me some rather basic mistakes on the whole Hume-Kant debate and would have opened me up to Hegel a year early.   Reading the book reminded me of several things I already knew, gave me new insights and stimulated me to think differently about the subject; so I acknowledge my source.  Carlisle identifies the two schools in philosophy – those who think habit is an inhibitor, "a rut we get stuck in" and those who think it is essential to create a degree of order and also that it acts as a liberating force.  She talks about the greek word pharmakon which means a drug that can either be a poison or a cure, and overall I think that is the stance I plan to take.   Habit is a part and parcel of what we are as a species for good and bad.  Critically, as any good philosopher will do, she makes a set of distinctions between:
individual idiosyncrasies and customs;
active and passive habituation;
habit as a source or a result of action;
as an aptitude or skill contrasted with a tendency or inclination.
All four of those are useful and I will return to them in various ways in subsequent posts; there are also links to Klein's assertion that so called cognitive biases are actually heuristics.  I agree and would make a general point that things that have evolved and been sustained over many years have utility, which is not to say that rapid changes in context may not redder that utility redundant.  So it's important to understand that habits can be created, or emerge; that they can be rendered useless but persist regardless and that overall we need to understand them, map them and be proactive in managing them.  To misuse Hume, while I can't make an ought from an is, I can determine if an is should be an ought in context.  Neither am I naive enough to believe that what is poison and what is cure is always obvious at the time, although it will be in generally be so in retrospect.  It always means that Why not? is as important a question as Why? in determining questions of utility.  If, as I (and others) suggest habits provide a mechanism for cognitive and social efficiency then the reason for something may not be clear until it is abandoned, and by then it may be too late.
So tomorrow, I want to broaden this initial discussion of habits to consider how they apply to collective knowledge. Of necessity, this will include aspects of tradition and some early thoughts on rituals which I will also develop. I will then start to play with a typology of habits and rituals, which will lead to the expansion of our long-standing decision & knowledge mapping process and tools. I'm not sure how many posts that will take, but I will, in the end, pull it all together with the wider issue of abduction, and how to create an objective approach to intuition.
---
The banner picture was taken earlier today at Moelfre in Môn, it was where both my parents lived from retirement to when they died coming up to 18 years ago today.  It was a stormy day and the mountains were probably unworkable so I picked up two sentimental walks, north along the cliffs from Moelfre and then along the beach from Newborough Warren.  The opening picture was my christmas gift from a team which was delightfully ironic in nature.  A fluffy bunny to slay, a provocation to mindfulness and a first aid kit given my habit of injuring myself from time to time on the mountains surrounding the Ogwen valley.  It cheered me up enormously in what was an otherwise fairly depressing week.  Gift giving which demonstrates understanding and humour provides a sense of identity and belong that is key to any group.