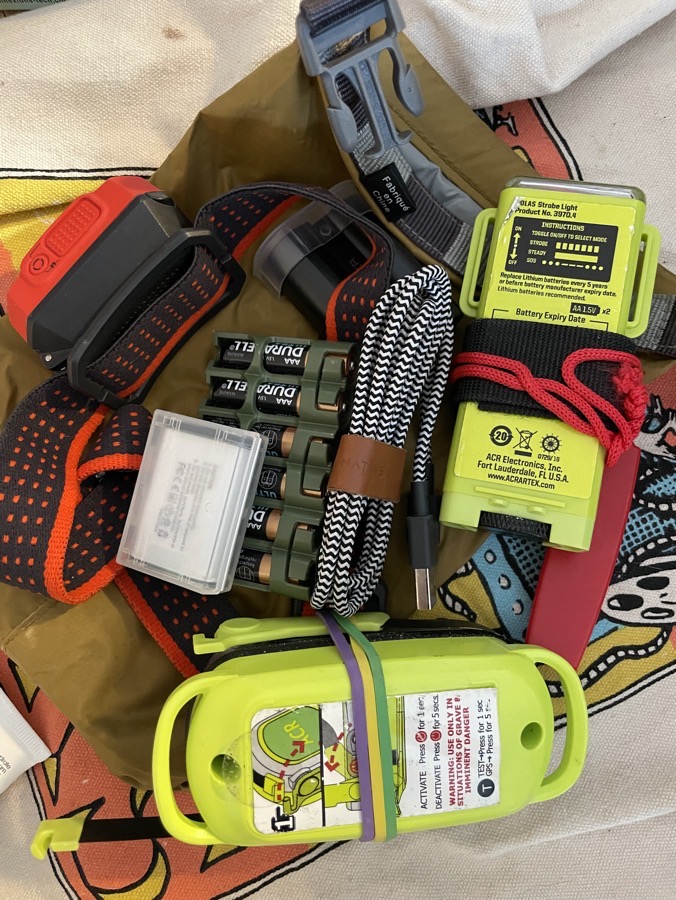 I was thinking this morning that in an earlier post in this series I hadn't really addressed the way that habits arise in wider communities (including nations) over time and that might be a logical extension of the emphasis I placed on collective habits as well as individual ones.  In the effect the habits of education, story telling and so on are a key ingredient of culture and help explain differences; they may even be epigenetic in nature.  I then thought a little more and decided that was much too big a subject for this series.  We have related work in citizen engagement that needs expansion and promotion and I will return to that in the new year.  So for the moment this blog series really focuses on organisations, and individuals in so far as they are a part of those organisations.   I include in that term professions, clans, clubs and all manner of collective groups and while they all exist within the context of society for the moment I have a narrower focus.
In yesterday's post I explored in more detail the philosophical distinctions from Carlise with which I opened this series.  I was using those as a springboard to create a wider typology and signed off yesterday saying I needed to play with some pictures around the dimensions of intentionality and utility.  This (at least for me) is a well established sense-making process.  Create some dimensions, look at aspects and think about what happens in the intersections.  The first time is always interesting but it generally ends up being developed, extended and simplified over time.  I'm currently working in background on the domain matrices for Cynefin domains after a few years or iteration.  So framework or typology should be created as a one time study, they need to evolve.  Also physically drawing them helps – even better if its over a drink with friends or on a flipchart in a presentation or seminar.  So there is an important qualification in what follows, it is, as the title of this post says provisional.   
So the reflective process, aided by wine, ended up confirming the primary dimensions with some qualification.   I took intentionality as primarily relating to the acquisition of habits (once acquired, they are by definition the way we do things so not consciously intentional) and I qualified the question of utility in two ways: (i) do we know that the habit(s) has utility & (ii) a reminder that utility is always contextual and the knowledge of utility needs to include an understanding of context, both in terms of application and also avoidance.  So those are the primary dimensions and after a bit of work I came up with the matrix shown below.  
The nice thing about three by three matrices is that I can translate them into triads for SenseMaker® Genba and other systems – in fact it is one approach to design and provides eight triad options if you think about it, but that is for another day.  I've taken a fairly conventional approach here with the better stuff top right and the bad stuff bottom right but, interestingly with the main danger zone being right in the centre.  There is a basic visual message here, in keeping with my earlier posts, that in general habits are about energy efficiency at an individual and community level.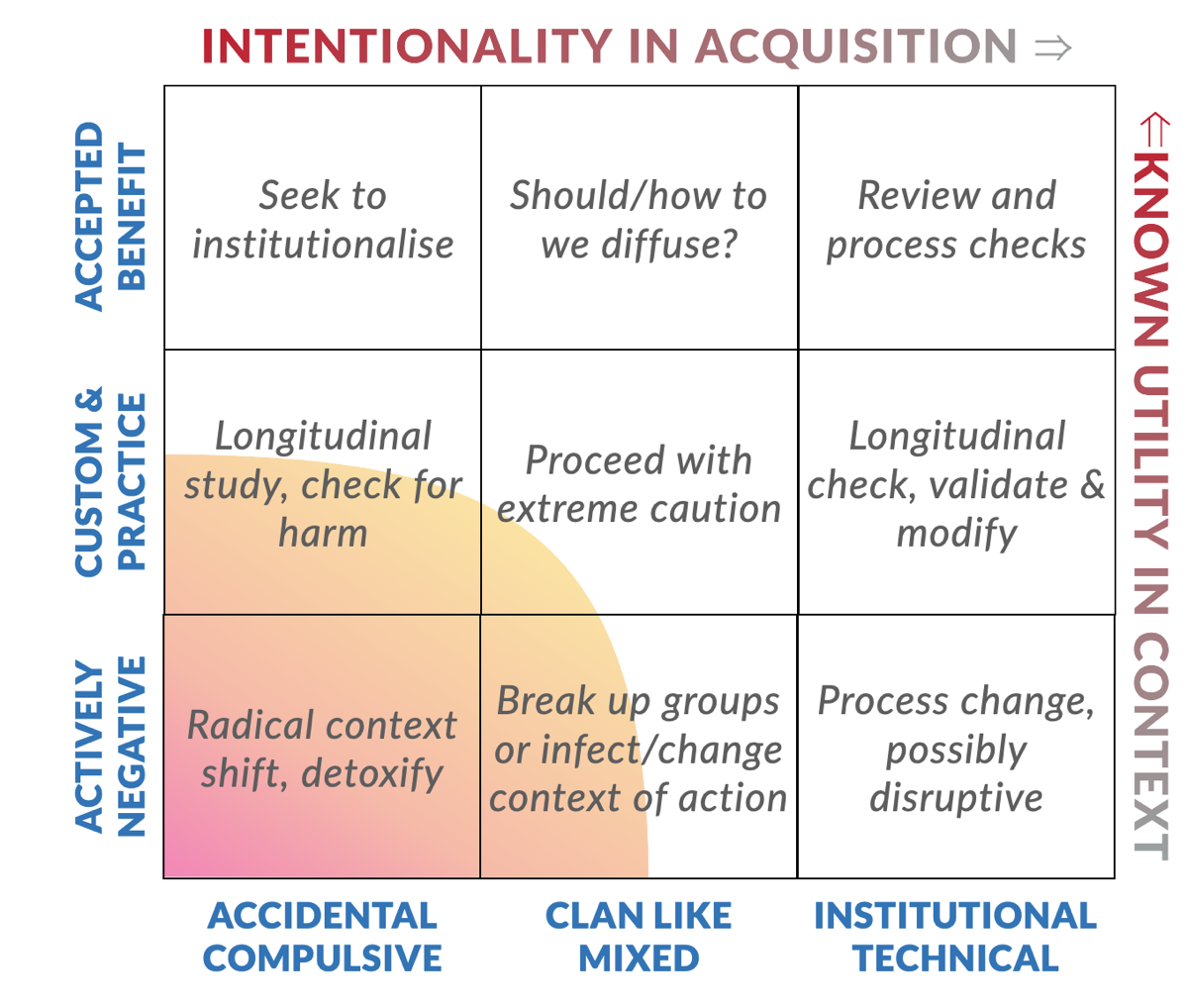 I will develop intervention and mapping in future posts, but today I just want to get the basic matrix out there.  I'll address what it means in three sections using the vertical access as the prime structure.  You might want to read yesterday's post again to understanding how I am using compulsive and technical.  Context is almost a third dimension here, but a cube would make things too difficult but I may return to that idea.
Accepted Benefit
Accidental-compulsive
So everyone can see the value of this, but it was never designed, it's just emerged over time.  That means its important but vulnerable to loss so shifting it to the right (ritual is one way and we will come back to that later in the series) is called for, but with care for context.  Just because it works here doesn't mean it will work everywhere.
Clan like, mixed
That means the practice is a part and parcel of a group of people.  That group may represent profession or practice.  But they have developed habits of behaviour and have forms of practice that institutionalise these within a group.  That may include initiation rights, hazing and the like so we need to be careful here. 
Institutional, technical
This is a part and parcel of the way we do things.  Acquisition of habit may go right back to induction or even recruitment; watch out for an announcement shortly on cultural screening pre recruitment.  The danger here is retention beyond utility on the one had, and neglect due to familiarity on the other.  So making such practices explicit is important.  You also need to think about practice to acquire capability, rather than training in a capability.  That is a key and not often understood difference and I will return to it in future posts.
Custom and practice
I used this title to convey a degree of ambiguity, they are there but we are not sure why.  They may be defended by users but they typically find it difficult to do to to an outsider.  As a general principle we need to study these over extended time periods.  We only know what we know when we need to know it to recall one of my knowledge management principles.  In the context of use we may see what the practice emerged but it may not be there for recall outside of that context.   I found that a few years ago on ascent of Pen y Fan in Wales and the descent of Cradle Mountain in Tasmania.  Habits drilled into me during mountain leadership and rescue training were triggered in the context distress.  But if you asked me outside of that context I would probably not be aware of it, it would certainly not come to mind without a lot of stimulation.   So this is one of those areas where SenseMaker® Genba was designed for longitudinal capture (and mapping) if experience, lessons learning, decisions and so on.  By making longitudinal recording of experience habitual we create a mechanism to find and validate context.  We can also sort circuit that with naive interviewing and recording, but more on that in future posts. 
Accidental-compulsive
The key question here is to check for harm, that is the trigger to ask a second question as to if the practice is harmful in all contexts and if it is action needs to be taken.  It's an early warning sign of something shifting to actively negative.  If it isn't then leave well alone and see what comes out of longitudinal study
Clan like, mixed
This is the main danger area, the practice is institutionalised so its more likely it has purpose, but that purpose may or may not be a good one.  Hazing ceremonies have utility in creating groups but they can become a tool for sadists, to take just one example.  Here we have the highest danger of abandoning something, and the highest danger of not destroying it. 
Institutional, technical
This one is probably not a danger, but it may be an inherent part of the culture and we should test for utility,  At this level of adoption change is going to be gradual; seeking adjacent possibles which also has the advantage of reducing the risk of change.
Actively negative 
Accidental-compulsive
This is the space of addiction and I've seen it in companies where a particular person (not always in a leadership position) is basically a bully.  I've seen HR departments actively avoid dealing with mysogency in technical groups, because the cost of replacement is high.  When, as a General Manager I fired two people for misogyny back in the 80s I almost got fired myself as no one could see why I was worried about it – mind you in those days managers held meetings in strip clubs (I kid you not) and if you want to understand the day to day sexism of that period then watch an old episode of The Likely Lads.
Clan like, mixed
This is a variation on the above, but it has become institutionalised with a group or practice.  It can be an exclusionary mechanism and again is often unarticulated. It may stifle innovation because people aren't prepared to take a more open approach – they simply can't see the point.
Institutional, technical
Here we can range from toxic cultures where the best solution is to leave, or something less immoral but more dangerous.   One of IBM's major mistakes was to hand over the IP to Windows to Gates, thereafter the culture was paranoid about IP to be point where it stifled partnerships and innovation.  One of the things I used to teach in negotiation classes to to look for the other organisations known and articulated failures, as those would have created a paranoia that we could exploit with ease.  We knew what was important for them, but we were relaxed about so we made it an issue.  They didn't question us, so when we made a concession they thought it was major.  Lots of other examples and that mapping of paranoia triggers is one of the ways we deal with it.
So that describes the typology, from this we need to move on to mapping and managing but I think I may switch to ritual for the next few posts.
---
The banner picture is from Christmas Eve, conditions were so bad today I just went back to my holiday accommodation and felt sorry for myself.  This is the view down to Llanberis and the Irish Sea that greets you as you start up the Pyg Track to the summit of Yr Wyddfa.  Up the Pyg and down the Miners is one of those go to walks that never fails in more or less any weather.  The final section of the Pyg was, as it nearly always is in winter, iced and I put on micro spikes for the three minutes it took to descend.  Why anyone drags themselves up the Llanberis Path at any time of the year I will never understand.  It's tedious in the extreme and like the Snowdon Ranger track on on my descent only list.  Pyg and Miners gives you variety and is probably the best first ascent route, if only because it starts a lot higher!   You can pay a fortune to park at Pen y Pass or use the bus from Nant Peris which if you time things right gives you the perfect excuse to end the day in the Mallory Bar at the Youth Hostel while waiting for the bus.
The opening picture continues this theme of personal artefacts relating to the question of habits.  I'm not sure I can keep this up for the whole series, but I will try!  This is the emergency kit that I check before each walk and which is always in the rucksack.  There is a spare head torch and batteries, batteries for either camera I am likely to take, an extra USB cable and a strobe light to attract rescue if needed.  The other yellow object is a one time use emergency beacon that will work anywhere in the world and outside of a 3/4G signal.  Set that going and it alerts the Coast Guard down in Falmouth.  They have my wife's numbers to check I am actually out and they can then call out the emergency services wherever I happen to be in the world with a precise location. It all fits within that yellow waterproof bag and that in turn goes into the bottom pocket of my rucksack along with (in Winter)  Micro spikes (I use Kahtoola), just in case and all easy to access.  For anyone who walks in winter micro spikes are one of those purchases everyone should make, but not may do.   The minute you encounter ice they can be slipped on and give you a secure footing.  They can be slipped off and hung from a carabiner on the rucksack with equal ease.  If conditions are bad then crampons may be called for but 90% of the time these give sufficient traction and therefore confidence.   The 'to hand' material I will picture tomorrow.