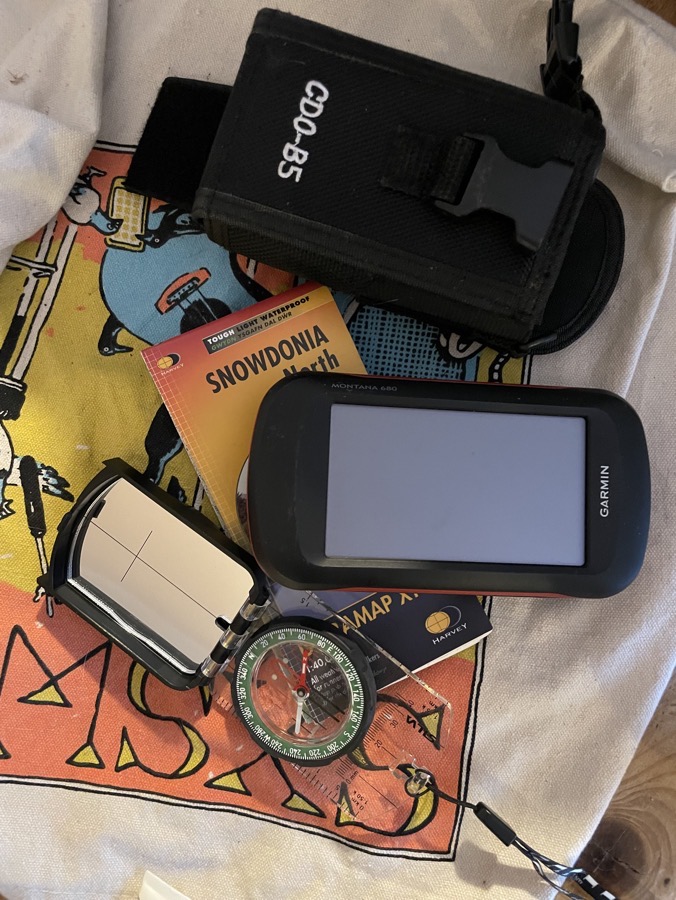 When I started this series I was not entirely sure where they would lead me and as I pass the half way mark on the last day of the year I am still not entirely sure but I can start to see a pattern. Walking everyday, bar one, has given me the space to think and reflect, a diverse set of readings that I brought with me (now wine stained by the way but accidents will happen) has provided stimulation and the act of writing itself is always for me an exploration.  I've never planned a blog post or an article for that matter, in each case (and I am being consistent to theory here) I start on a journey with a sense of direction and stay open to discoveries en route.  I'm starting to get a sense of this series however, the posts today and the next few are all going to play with aspects of habits, rituals (and now scaffolding) along with a few other things that comprise the HE elements of ASHEN and once I have that sorted I can think about mapping and also intervention.  Some of the intervention aspects may get written up later in the year as I will beed to do some experiments, but I will indicate the direction of travel in the final post and that may be number twelve or I may indulge myself, as I have done before, with a Baker's Dozen.
This approach is the essence of naturalising sense-making, or to put it another way praxis makes perfect. A disproportionate number of the methods I have created over the years have arisen in workshops in the heat of the moment, but they come together at that moment of discovery having been informed by a lot of reading, thinking and discussing before.  I've never bought the idea that you can derive sustainable framework and methods by simply studying what other people have done, or rather what they tell you they did, and abstracting it.  And while I accept the value of that, and that it is evidence, I don't see the results as evidence based without heavy qualification to the context of discovery.  Mind you its better than simply cobbling together a two column table which owes its origin to Manichæism: platitudes to the right, demonisation to the left.
Now a part of this process has been developing the habit of collecting books and papers over the years which seemed interesting, a term I define broadly and there is no better place to do this than the MIT Bookstore in Cambridge Mass, one of my twelve sacred spaces in the 2019 Twelvetide series.  Many moons ago I picked up Developing Scaffolds in Evolution, Culture, and Cognition on an impulse.  I skimmed it at the time but then forgot it.  Which is a pity because I could have done with it during the retreats we organised on design thinking when we came up with a typology of scaffolding.  Either way I was reminded of it in an exchange with Alicia Juarrero a couple of days before I left home.  It was about constraints and she let me have an extract from her hew book Context Changes Everything: How Constraints Create Coherence. MIT Press, forthcoming.  That referenced Developing Scaffolds which, thanks to the Covid stimulated re-organisation of 1,600+ non fiction books with which I share a study I found fairly quickly and its been at my side for the last few days which was fortunate as it escaped the full glass of wine that I knocked over onto the sideboard which had my to read if I get a chance pile.
The book is part of a series on theoretical biology which gives a novel take compared with a lot of sociology and management theory.  One chapter by Linda R Caporael Evolution, Groups, and Scaffolding Minds was the basis inspiration for this post but it isn't the only chapter I've drawn on in the series.  Her definition of scaffolding is worth quoting in full:
.. a shifting and relative term referring to the support for action or concepts using various resources which may include (1) group structures or dynamics, (2) culture-historical resources in the setting created by groups, or (3) endogenous resources.
In this context she is seeking to avoid the neo-Darwinian dichotomy between genes and the environment and instead talk about "repeated assembly" and "core configurations" in face to face human groups.  The claim here is that "repeated assembly of core configurations"  in human interactions over time provides a scaffolding for human culture over generations.  There is a more ambitious claim here by the way to avoid nature-nurture dualism.  Recurrence of practice (which comprises a habit and is often enabled by ritual), if that is recursive in nature  may be genetic, or occur for other reasons.  A group then is a part and parcel of this and group size comes into play.  One to one (parent-child) allows for more or less exact copying.  Caporael points out that a dinner party for 12 will break into conversational groups of 3-5 (part of our entangled trio method along with a natural limit on a triopticon by the way).  She cites multiple sources (not just Dunbar) for common patterns of group size that appear independent regardless of predation risk, geography or anything else.  The three groups she comes up with are 3-5, 30-50 and 100-500.  From this she creates a table of four types of group:
Dyad sets based on close up and personal (parenting, sex) which affords or scaffolds micro-co-ordination
Task Groups of 5 focused on hunting, foraging etc which afford of scaffold distributed cognition
Deme (or Band) of 30 than handles movement such as migration and co-ordination which affords or scaffolds group identity and shared construction of reality
Macrodeme of around 300 for seasonal gathering, exchange of individuals and so on which affords or scaffolds stabilising languages, collective identities and various ontologies.
The numbers are not absolute, and I may add to this in a modern connected world ideas of virtual identity (thinking about that may return) but these limits have co-evolved with the physical constraints of human bodies and the environment.  There are some interesting connections in the chapter to research on scientific working groups.  I want to provide another full quote from the article here (supporting references omitted):
Consider airport control tower personnel gathering around a radar screen to discuss and interpret sigs of possible danger given by ambiguous blips on the screen…  The body itself limits the number of people who can simultaneously communicate in a meaningful way and the spatial constraints of how many people can simultaneously scrutinise and point to details on the radar screen.  Note here that task configurations doing not guarantee optimal, or even good enough, data collection on analysis – we have a considerable literation on social loafing, polarisation, clique selfishness, and other varieties of group dysfunction.  Nevertheless, relative to individuals or other core group configurations, the small task group of around five people appear to be the most efficient for serving paradigmatic epistemic functions.
Now some of this links back to crews and also apprentice models from earlier posts.  Core configurations support sacrifice and mob behaviour and so on.  We also start to see how altruism evolves to avoid the issues of defectors and deviants.
The seasonality of micro bands also links to some of the key insights of the controversial, but very interesting Grabber & Wengrow Dawn of Everything which was also on the key reading track this break and to which I will return when it comes to questions of intervention.  Institutions may now be our macrodemes, demes may mediation and enable heresy which becomes a new orthdoxity and so on.  As Caporael says society has a lumpy not a smooth texture, it has little to do with self-interested individuals.
Narrative, shared stories and the folk psychology of story telling is learnt with language and allows us to situation ourselves in our own history and that of others.  Dispositions are more likely to give rise to decisions than perception-action processes.  The dyad nature of infant development explains a lot, and also (this is me speaking) is another nail in the coffin of people who try and use infant development as a scaffolding for theories of adult development.  That is something I am going to return to when I start to look at how all of this links to abduction.   This way of thinking means that we have to acknowledge (a Cynefin concept here) that we are material and spiritually connected to multiple pasts of which we have partial understanding.  
All of this can be managed …
---
The banner picture show's one of the many ruined buildings (either connected with farming or mining) that as much a part of the landscape of Eryri as are any of the 'natural' features of the landscape taken from the small car park located at SH56745 59496 at the navigable end of a very narrow and gated country lane that threads its way out of Llanberis.  The view is towards the cloud covered summit of Moel Eilio which was my first (and as it turned out last) destination of the day.  It is one of the great option walks in Eryri, as once achieved you can either return or continue along the ridge to Foel Coch and then return by a delightful old set of tracks along the foot of the mountains to your starting point.  Or, if fit and if you started early you can carry on up the Ranger track to the summit of Yr Wyddfa and thence return via the Llanberis Path at least to the station at Gorsaf Hebron from which a slightly boggy route will rejoin the above mentioned 'delight; at its intersection with the Afon Hwch.  And after all that, or before, you have of the two best cafe's in the area namely Pete's Eats in Llanberis (the other is the Moel Siabod Cafe just to the east of Capel Curig.
The top picture shows the basic needs if navigation and I would feel naked if I was on the hills without them.  A map, a sighting compass and a very robust Gamin Sat Nav.  Battery lasts all day even in the bitter cold and can be operated by gloved fingers.   I've also got View Ranger on the iPhone and in summer might relax the need to carry the Gamin but the battery there will drain if you have to navigate off a hill in a blizzard where you need to have your Sat Nav in your hand – you will also freeze if you keep taking your gloves off to operate it.  There is also an easy access case for the Gamin that fits on the rucksack strap for easy access.  The Map by the way is from Harvey – one of their ultra map series.  They are waterproof, easy to carry in a pocket and cover mountain areas rather than just the grid pattern of the Ordinance Survey.  Their origins are in orienteering and they are perfect for the mountain walker as they tell you all you need to know and no more.  Also, and this is key, if there is a path shown on a Harvey Map then it is really there – they use photogrammetry and old fashioned foot surveys to create them.  On the OS it may just mean there is a right of way and the back of my legs still carry the scars of fighting through a near jungle of bramble buses while following one of those around the foot of Pen Tir in the Black Mountains.  When we emerged, battered, scarred and torn following a stream bed, with Brenda (one of the two doctors I go walking with) considering the possible need for a tourniquet on my leg (I was in shorts), by the farm at Blaen-y-cwn the owner came out to greet us, with a degree of amazement and she had never seen anyone make it out before.