Using SenseMaker®'s narrative journalling to understand how leaders are building resilience in these times
The Cynefin Centre, collaborating with the UNDP, launched an experiment in
narrative journaling geared towards leaders.
Participants were self-selecting as they responded to a blog post
and an email sent out to Cognitive Edge Network Members, and signed up to take part. Future research would look to address this with a wider, more diverse sample.
652 journal entries were submitted
121 people signed up
27 nationalities took part
Key insights from triads
Societal concerns: There is strong agreement that we need to Adapt and Transform, not Accept, the challenges that COVID-19 throws at us.
Future implications: What's required for Transformative Radical Change is reconsidering Habits and Customs.
Personal resilience: Responding by Experimenting and Learning is related to reconsidering Habits and Customs.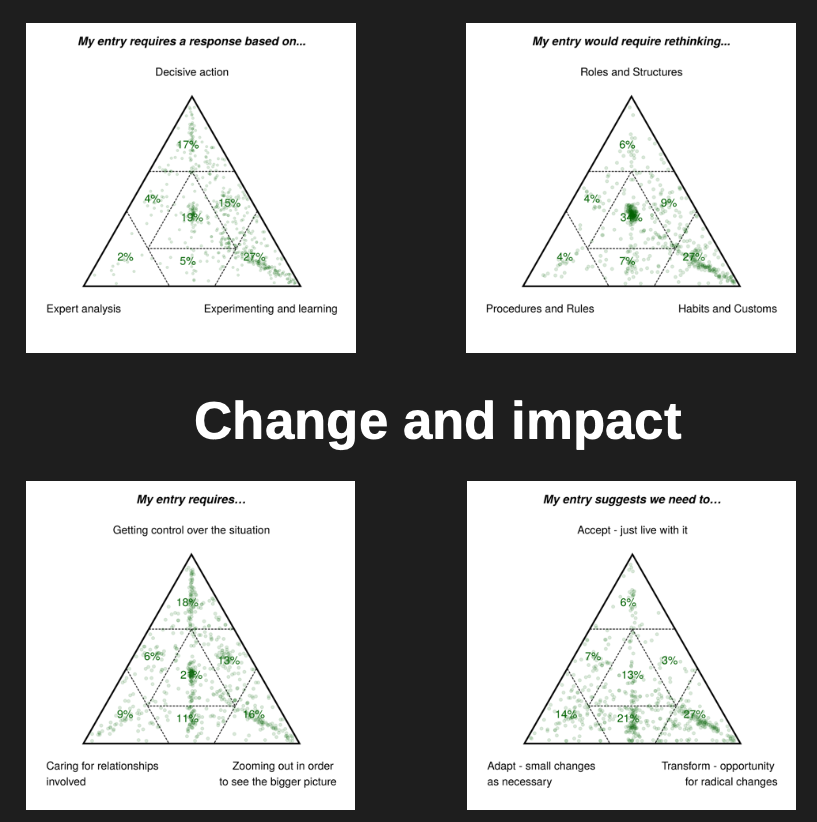 Emergent theming was conducted on the narratives and 2 dominant themes were defined. Excerpts of stories, verbatim, around these themes are included in the report.
Theme 1: Transformation and Learning are associated with Motivation,
Confidence, Excitement, Empowerment and Clarity
Theme 2:  There is Worry and Disillusion about how the response to Covid-
19 foreshadows the coming climate and other crises