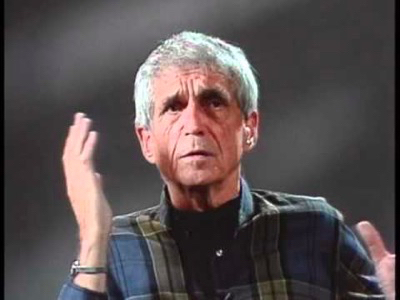 The news this evening (Bogota time) that Daniel Berrigan died in New York at the age of 94 has had a greater impact on me than any of the other deaths that 2016 has brought. I doubt any activist of the 60s and 70s need to be reminded of who he was and what he represented, but the name may be less familiar to a younger generation. A Jesuit Priest he was one of the most prominent of the protesters against the Vietnam War, imprisoned for burning draft papers using home made napalm (an irony he attribute to his brother, also a priest and protester). He was also a truly great poet and a person of great humanity. A small thing in his life, he was an advisor to the 1986 Roland Joffé film The Mission which told the story of conflict between the Spanish authorities and a Jesuit mission to the Guaraní people in Latin American. He also appeared in it briefly.
He was part of that great movement in the Church, enabled by John XXIII, that brought a focus on truth and justice, on peace and reconciliation, which attracted me and many others to a faith which was not that the faith of our fathers. Ironically I am in Bogota at the moment working with Uniminuto University on a programme which will see SenseMaker® deployed in Colombia as part of the post-conflict resolution process. Earlier today in our final session I was asked by one of the participants, who has been working with indigenous groups, about oral history and power. I referenced that movement in probably my most passionate contribution to the session. We need to enable the voices of people's day to day hopes, dreams and yearnings to be heard at the seats of power. I referenced the birth of Liberation Theology in Medellin in 1968 through the declaration of the Latin American Bishops, the hopes that inspired and the loss of hope its subsequent suppression created when the Church turned from truth and justice to an obsession with sex. Something that may now have been reversed – with a Jesuit from Latin America; Laudato Si' marked a turning point for me.
Thanks to Mary Condren, when we both worked for the SCM, I met Berrigan on a retreat in the Glencree Centre back in the 70s. I remember a debate on Just War Theory (I have never been a pacifist), discussions on the conflicts in Derry and Belfast, prayer around a large open fireplace with a wonderfully peaceful Irish Wolfhound at his feet. He was a gentle, passionate, committed and above all morally consistent private individual. I was privileged to be allowed those three days with him. The title of this blog comes from one of his famous quotes: If you are going to follow Jesus, you better look good on wood.
I finish with one of his poems, not the best in my memory, but the best that I could find online:
A DARK WOOD

As I walk patiently through life
poems follow close —
blind, dumb, agile, my own shadow;
the mind's dark overflow, the spill of vein
we thought red once but know now, no.

The poem called death
is unwritten yet. Some day will show
the violent last line,
the shadow rise,
a bird of omen

snatch me for its ghost.
And a hand somewhere, purposeful as God's
close like two eyes, this book.