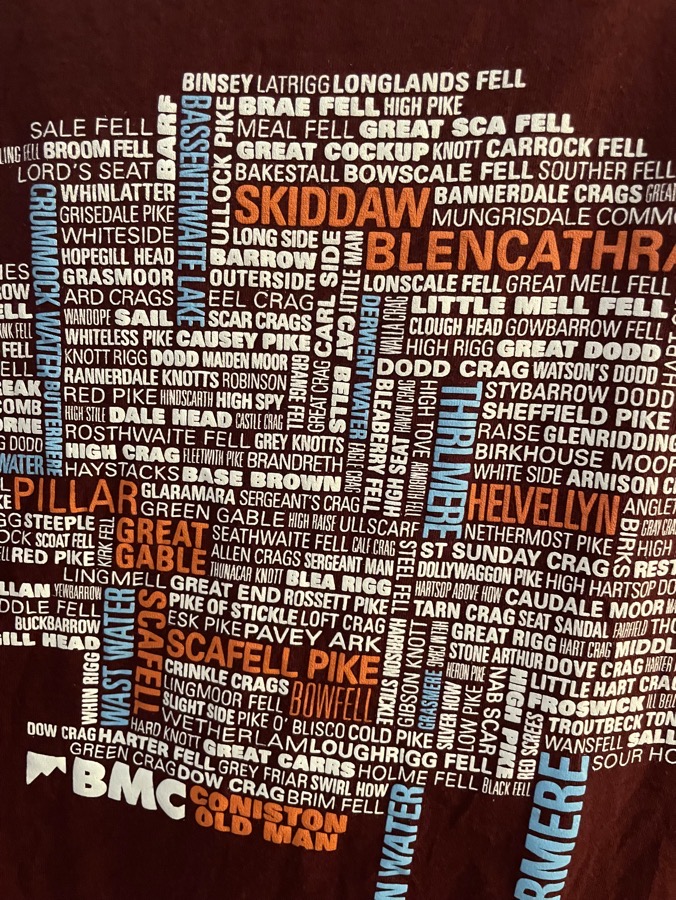 Carwyn Edwards sent me an interesting link via social media the other day.  It was to an article by an anthropologist at Dartmouth College on the link between great thinking and obsessive walking which starts with a wonderful quote from 1861: "Moreover, you must walk like a camel, which is said to be the only beast which ruminates when walking" and has some interesting research on the impact of connectivity in the brain achieved by walking which also links to issues of cognitive decline.  The context is that Carwyn had been monitoring my summit tweets from the Lake District over the three weeks of my holiday and he asked a tongue-in-cheek question "Is this what you are up to?" with the link.  For those not aware I am currently involved in a project to bag all the Wainwrights in less than forty days and there are two hundred and fourteen of them in the famous man's guidebooks. There are all shown in one of my favorite T-shirts which is illustrated to the left.  At the end of the holiday, in which I lost more days to really bad weather than I would have liked I got to a cumulative total of 143 in 27 days which has involved 224 miles of walking with 85, 421 get of climbing over 143 hours in total.  That leaves me 10-12 days left so I will make the target and possibly better it.  But as the nights draw in time is more restricted and most days panning out at around 10 hours of walking, without a break, there will be a lot of dawn starts when I get back to the project in October – having bought new boots, the current ones are worn out beyond re-soling.
Now this question of thinking while walking links to a whole body of material from the role of meditation and 'spiritual exercises' to the dangers of cartesian models of consciousness.  In that latter context, when I was asked about a change in organisation development theory and practice on a call earlier this morning I suggested banning any method or theory based on Jung or which takes a linear stage-based approach to questions of maturity.  That is part of general criticism I have been making for years that too much of organisational change practice has come sideways from approaches originally developed in the context of therapy.  That gives two issues (i) the assumption that people in organisations need therapy and (ii) the privileging of the therapist.  The second is a terrible temptation for organisational change consultants who almost have an innate predisposition to the white knight syndrome, also known as the Saviour complex.  A lot of this links to the false dichotomy between neuroscience as dealing with the hardware and psychology as being the software is dangerous in its own right even before we hit the danger of the metaphor.  Ideas of consciousness as embodied, embedded, enacted, and extended are really important to a complex understanding of organisations.
Now for some people, this insight has lead to a form of mysticism with which I have some sympathy.  I have a copy of Loyola's Spiritual Exercises to hand (regrettably a new edition as my original was 'borrowed') in my study.  But that is not the whole of it.  I find, as have others that walking is a form of meditation as is road cycling, but not mountain biking.  The latter is for adrenaline junkies, the former clicks you into a different space after ten miles or so.  Interesting I have the whole Hornblower series of audiobooks at the moment and as people know he can only really think when he is pacing the quarter-deck.  In one of our last retreats before lockdown, we sent people in small groups to walk around Port Arthur in Tasmania to reflect on resilience.  If you have been there you will understand why, especially when you visit the horror of the panopticon.  Getting people to go walking together is part of a wider theme I am increasingly talking about, namely the need to act in order to enable conversations rather than the dominant Anglo-Saxon tradition of talking idealistically with a few to determining action.  There will be a lot more on that theme in future posts.  Rumination is also interesting as a word in its own right, it variously means chewing the cud or deep and considered thought.
Now part of walking is also planning.  The banner picture on this post was taken in the sitting room of my home last night.  I have to get all my remaining Wainwrights into ten days of walking which is constrained by (i) the state of my knees and (ii) the hours are closing in so I need to allow for head torch-assisted walk-ins.  In parallel, I really want to finish the South West Coastal path this year and that means I need to do eight days on the south Devon section while the seasonal ferries are still running.  Any such plan, especially with dependency on public transport (critical on linear walks) and accommodation is an issue.   At the moment I can't find accommodation at Burg Island and there is no reasonable public transport back from that point to Noss Mayo where I have to leave the car at 0600 to make at the River Erme for low tide.  Visualisation helps this as you find more options faster – hence the scribbles on maps.  Constraints are interesting and if you are walking solo then you have to start thinking about planning with options and contingencies, you also have to create a strong mental visualisation of the maps before you walk – go back to Hornblower and sea charts if you want to see why.  All journeys need options as much as they need goals …
---
As a postscript for those who have asked.  I resolved the next four days on the SW Coastal Path (and that difficult tidal constraint) as follows.
This Thursday I get the 08:04 train from Pewsey to Plymouth and then a longish bus ride (half an hour to make the connection) out to the Cliff Top Café on Tregonhawke Cliff in time for a quick lunch stop.  That is where I surrendered early to the pain of an ingrowing toenail on my last section which lost me a whole day as I had planned to get to Plymouth.   That means I can start the 9½ mile, 1,341 ft of climbing by 1245 which should get me to the Cremyll Ferry by around 1800 with plenty of margin before the last ferry at 2100, and I can then add an industrial walk of around 3 miles to Plymouth Hoe before finding my hotel for the night and suffering the problem of the solo walker – finding somewhere to eat so it will probably end up as take away fish and chips.
The next day I have 15 miles and 1,788 ft of walking to the Ferry Point on the River Yealm and then back into Wembury which I have to make by 1745 for the bus to Plymouth which connects to the last train home arriving 2120.  To play safe that means leaving the hotel around 0830 at the latest which given British hotels probably means I will be too early for breakfast in which case I may set off around 0600 which gets me to the 0345 bus and home at 1916 with a good excuse to stop for lunch en route.  My rule when walking is that if I have a hotel breakfast then there is no lunch.
So that will get two days done and the weekend involves a busy Saturday which starts with a rugby match (Cardiff away to the English Champions in a 'friendly') and ends with a performance of Paradise (a reworking of Sophocles 'Philoctetes' which I have been looking forward to since it was announced) and then on Sunday acting as a chaffeur to my wife for her to vist her mother in London.  Having discharged my duty I then drive back to a travel lodge in Plymouth on Sunday and get up early to park the car in Noss Mayo (not the tidal car park) at around 0500 Monday to walk 10½ miles with 1,729 miles of climb to make low tide at 1120.  That means waterproof bags for the camera, clothes etc in the rucksack (just in case) and the boots slung around my neck on their laces with the treking towel a new item of equipment. Then its 9½ miles and 1,736 ft of climbing to make Outer Hope in time for the 1810 bus to West Alvington and the Ring O'Bells pub twenty minutes later by which time I will need a drink and food.  This is a real pain by the way, I wanted to stop at Bigbury-on-Sea but there is no accomodation free so the two days are badly unbalanced.  
On the Tuesday its an 0846 bus from the pub (which means getting breakfast is ambiguous) before a shorted 8½ miles but with 1,409 ft of rough climbing to Salcombe and I need to make the 1524 bus which via a tortuous route and two changes delivers me back to Noss Mayo the best part of three hours later.   A taxi would be about 40 minutes but that is my backup plan.
After than I have to find the time for four more sections before the end of October sees the ferry to Exemouth cease running and then the final seven stages can all be done over winter I think, but given shorter days and long walks with off season transport it may prove a challenge.   I've provided the above to show how much planning goes into solo linear walks dependent on public transport!  Two people with two cars would transform a lot of this.   For all of this I will have A6 laminated route cards in my pocket with key checkpoints, times etc. as monitoring and feedback is needed to make sure key deadlines are reached.