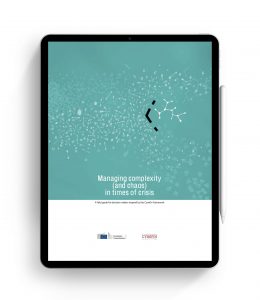 The Field Guide to Managing complexity (and chaos) in times of crisis is now available online. This is a long-planned and long-anticipated joint publication between the Joint Research Centre (JRC) the European Commission's science and knowledge service, and the Cynefin Centre. Its aim is " to provide sense-making support to the European policymaking process" but it has much wider utility than that. It is also written in the context of the Covid-19 crisis but again has much wider applicability.
The reality of any strategic approach within an organisation is that you are mainly operating in the world of complexity and confusion dealing with the unknown unknowns and also, if not more critically the unknown knowns.
The Field Guide identifies four clear stages to wit: Assess, Adapt, Exapt, Transcend. While clearly focused on crisis management and recovery, with very minor modifications this is a Field Guide to managing and thriving in complex (and chaotic) times, the bracket is significant!
"THE COVID PANDEMIC HAS DEMONSTRATED THAT WE NEED TO FIND NEW & BETTER WAYS OF REACTING. THIS FIELD-GUIDE OFFERS IMPORTANT POWERFUL AND PRACTICAL TIPS ON HOW" – Steven Quest. Director General, European Commission – Joint Research Centre
OUR GIFT TO YOU – ADOPTION FLOW CHART
This flowchart is to accompany the EU field guide for managing in complexity (and chaos),  charting out the stages of adoption for an organisation or other human system to go through to imbed the Cynefin Framework inspired approaches to be able to navigate complexity.
Each stage Assess, Adapt, Exapt and Transcend, present its own unique challenges and responses in this need to be appropriate, we hope this helps you to spot the signs of each stage and to work with the complexity in your environment.