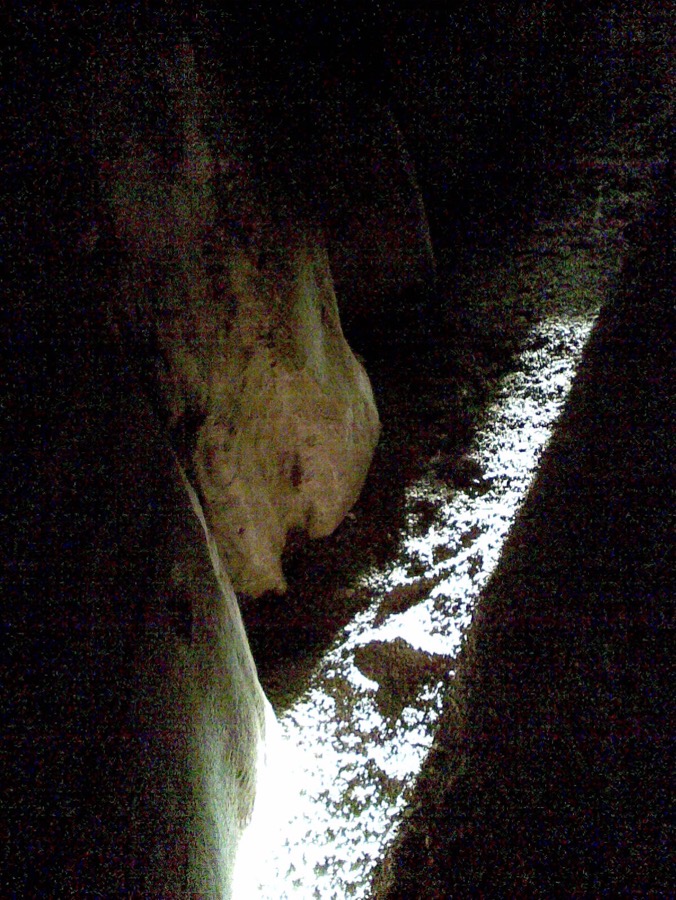 It's winter solstice and as I live in the heart of Neolithic England we are always more than aware of such events. Avebury (a much older and in many ways more interesting stone circle than Stonehenge) is a shortish walk from my house as-is Silbury Hill, the West Kennet Long Barrow, Devil's Den and the Ridgeway.  I have a six-hour walk from my cottage which takes all of those in, but in winter requires some pretty tough Wellington Boots.  Chalk Marl in winter will ruin leather and you can expect flooding and mud in profusion.  As the Stones at Avebury are not fenced off we attract more than our fair share of New Age travellers and their ceremonies at solstice time are always colourful and interesting.  Two years ago I was there with two very visible Trepanning Scars and as that is meant to grant you mystical insight I became an object of curiosity.  Also, the recipient of a few too many drinks at the pub in the centre of the Circle; the better the story I told the more the drinks flowed. 
Last night I was at the Royal Opera House, masked (as were the chorus) for a production of Nabucco; famous for Va, pensiero, sull'ali dorate or the chorus of the Hebrew Slaves which was adopted by the Welsh National Opera in its early days with an amateur chorus.  It's always a tear-jerker if you have any humanity in you, but the more so as the staging here mirrored the Holocaust Memorial in Berlin.  In addition, we played it at my mother's funeral so it always brings back memories.  Probably the best performance I have attended was in Verona in the open air and I lost count of how many encores were demanded.  Summer night, full moon, the chorus arrayed on the seats of the Roman amphitheatre in costumes with all the richness of a Venetian Festival.  It was a very special night.  Physicality and a sense of being in the open always have special meaning.  Last night as I drove back after midnight through Avebury I stopped briefly in the freezing cold to just get a sense of a place of worship that is five thousand years old.  Equally the Ridgeway overlooking Avebury at dusk is always a magical experience and you have a sense (often one that makes me nervous) that there is more around you than you are aware of.
During the Opera and after, for various reasons, I started to think about the seasons and the movement between them.  That in turn triggered a memory of Zinnemann's 1966 film A Man for All Seasons.  By the time I saw it as part of a joint English and History programme for O level students at the Alun School I was sixteen and increasingly politically engaged and it had a profound influence on me.  For those who don't know it portrays the final years of Thomas Moore, his refusal to compromise with Henry VIII, works through the trial and his betrayal ending with his execution.  Robert Bolt who wrote the play portrays More as a man of conscience who does not sway with the winds as did the notorious Vicar of Bray.  The contrast with Richard Rich who considered Thomas More his mentor is a part of the plot.  Rich simply wants advancement, to gain money and position but has no principles other than his selfish desires.  In the trial scene, he lies about a conversation with More, committing perjury for which he is rewarded with high office.  It's a good antidote for the snow job that Hilary Mantel did on Cromwell.  Now leaving historical accuracy aside (and there is a case to be made against both Bolt and Mantel)  the film and the play deal with profound human issues.  
In the last two posts, I've been talking about the application of the Cynefin framework to understand ethics and people could do worse than to watch the film and reflect.  It was hugely influential on me, which is not to say I have always lived up to the aspiration.  The title of the film comes from the writings of Robert Whittington who was a contemporary of More:
More is a man of an angel's wit and singular learning. I know not his fellow. For where is the man of that gentleness, lowliness and affability? And, as time requireth, a man of marvelous mirth and pastimes, and sometime of as sad gravity. A man for all seasons.
He is a man for ALL seasons, not just one and he will not compromise on a core principle event at the cost of his life.  There are connections here to the character of Fenena in Nabuco who, although daughter to King of Babylon, chooses, for love to identify as a Jew and is walking with dignity to her death when the sudden conversation of her father results in redemption.  The exposition of a human value in this way demonstrates how narrative manages cultural transfer between generations and to illustrate underlying mores and beliefs in society at all levels.  We've been working with SenseMaker® for coming up to eighteen years in that field, and we've built a body of knowledge and capability in both the practice and the ethics but I'm still surprised at the power of allowing people to interpret their own stories and still proud to have created the approach all those years ago. Over the last year as we've roughly trebled staff numbers we've been putting a lot of effort into extended apprentice learning for our staff.  This isn't yet, and may never be a commodity market.  
Returning to the theme of A Man for All Seasons one of the points being made is that you cannot stand aside in the face of wrongdoing.  Even if you are not the sinner, failing to oppose the sin, especially if you gain benefit as a result, makes you equally guilty.  In Catholic dogma, rightly, no difference is made between a sin of omission and one of commission.  And while I am on the religious theme, often the most hypocritical are those who consider themselves sanctified or chosen by God.
Back to the seasons;  I think my favourite has always been Autumn, or the Fall (an Americanism I must confess I like).  When we get to that point in the year we know what harvest we can gather in to prepare for the reflective period of Winter.  It is a season of mellow fruitfulness to quote Keats.  Interestingly I've just finished reading  The Dawn of Everything with its fascinating insights into how monuments were built in winter in large stable social groups (Avebury would be an example), while in the Spring we would see dissolution into fragmented clans able to feed on the fecundity of the land and no longer bound by the same levels of obligation.  But as summer ended they would come back together, or at least those who survived the period would.  There is a lesson in that for organisation design and it's a theme I will return to in future posts
Above all, we need to appreciate the value of different seasons and different ways of thinking.  But even in diversity, there needs to be a line or two drawn.  In my life I've seen brutal authoritarian management, betrayal of long-standing friendship for private gain, use of the law not for justice but as a weapon of privilege and countless other nefarious practices.  I'm now closer to seventy than to sixty and with age comes a more mellow ability to understand that these things will happen but not to tolerate them.  Despite that understanding, I can still wish that there would be more of (sic) More and less of (sic) Rich in our world today.
---
Solstice at Stonehenge is cropped from an original Image by Howard Walsh downloaded Pixabay
Sunlight entering the Passage Tomb in Newgrange at Winter Solstice is By Dentp – Own work, CC BY-SA 4.0,