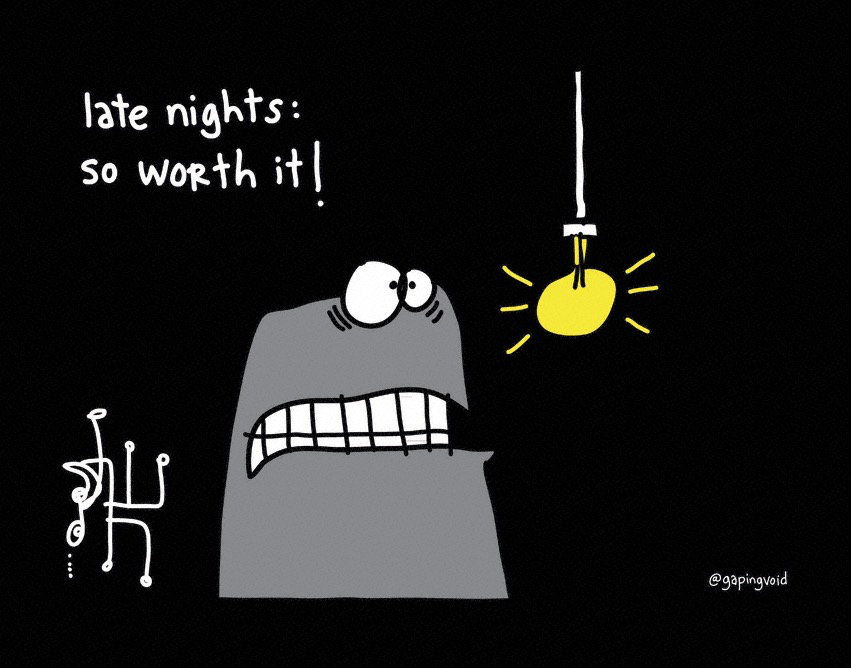 Having got home in the early hours of the morning following wonderful production of the rarely performed Adriana Lecouvreur at the Royal Opera House (one of those kill for a ticket events) I couldn't have found a more apposite Gaping Void cartoon to illustrate this post. There is a lovely ambiguity too the cartoon and its message is far from clear. I remember at University writing whole essays in coffee fueled all night sessions to hit a deadline, something that carried on during IBM days where producing an article every month was part of the thought leadership targets we had within the Institute for Knowledge Management. Some of my best work was written when I got into a grove. In my days writing code for decision support systems there were a few nights in Smithfield where I don't remember the period between midnight and the early hours. I wrote a lot of high quality code that I would spend days deciphering so I know it was productive. If you have done an all nighter there are worse places that what was then a meat market to seek revival in the early hours. Mulled Ale and a full English being a terrible temptation.
Of recent years I have been less of an owl, more of a lark. Getting up before dawn seems to produce the best writing and thinking, but I've also run some creative sessions of long distance flights. On one notable occasion spending the day in Cardiff, getting on a 2200 flight to Singapore and working on a report/presentation that I delivered to a large audience some ninety minutes after landing.
Human creativity cannot be timetabled: lark, owl or the odd Zombie trance are all part of the rich tapestry of thought.