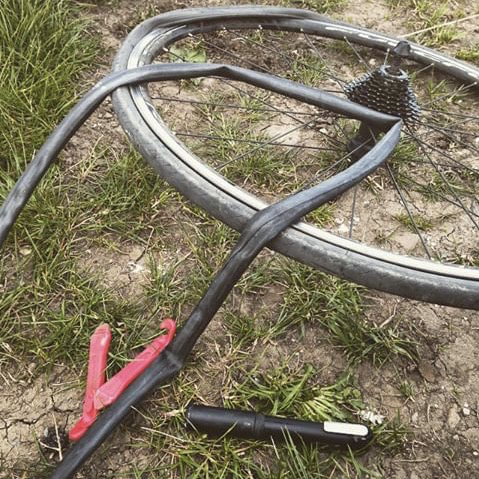 Too much travel, too little hill walking and only one day between trips. But at least, I thought I can get out on the bike. I picked it up from Sean who had fitted a new chain at midday and then set out for my normal 50km round. The weather was not good and I really should have taken the cycle cross but the Dave Yates Audax bike is just so much more fun to ride. I also spend a whole day with the Bike Whisperer having it and the shoes adjusted to the point where I had about 15% more drive efficiency, so desire won out over sense. It all went well for the first 90 minutes although I hit a few hail and heavy rain showers in the most exposed sections of the ride so I knew this would not be a record time. But then as I approached Etchilhampton I hit a pot hole and the rear tyre was lost. A quick use of the pump and it was obvious it was a puncture but such things happen and I thought I was prepared.
The short and long term problem was that I had got a new emergency gas cylinder (pumps are for masochists on the road) and had thrown that along with a spare inner tube into the saddle bag. Unfortunately the old cylinder had tyre levers in the same bag and I forgot that so I was stranded in the rain with dusk approaching and no tyre levers. OK I improvised using a multi-tool and a couple of twigs (stress creates innovation) and got the new inner tube in but by now I couldn't feel my fingers and threading the valve was difficult. The new cylinder was brilliant, full pressure in two seconds, too high as it happened but I didn't have my pressure gage and was reluctant to risk lowering the pressure as given frozen fingers I met have let all the air out with a depleted gas cylinder. So I rode on with a light bump from the rear wheel that was worrying but would probably be OK.
That was foolish, I managed the hill that leads into Coate and turned for home at the Barge Inn. But entering Allington the rear brake started to engage unasked and just as I pulled over to check it a loud bang indicated an exploding inner tube and I was stranded. I suspect the wheel was slightly buckled by the pothole and it all compounded to a disaster. But now it became farcical. I phoned home, but then realised that the new car was parked in front of my wife's and she has yet to drive it. Given its an automatic with more electronics that I care to think about she ended up (after multiple phone calls that almost made my prediction of divorce in yesterday's post an inevitability) getting a neighbour to move the car off the drive so she could come out and rescue me; I then drove back to rescue the bike and finally got a bath at around 2100. It was dark, I was freezing, the phone battery way dying, next time the right bike and two inner tubes plus a proper gear check.
And now the bike is back with Sean, and a bottle of good wine has gone to the neighbour.