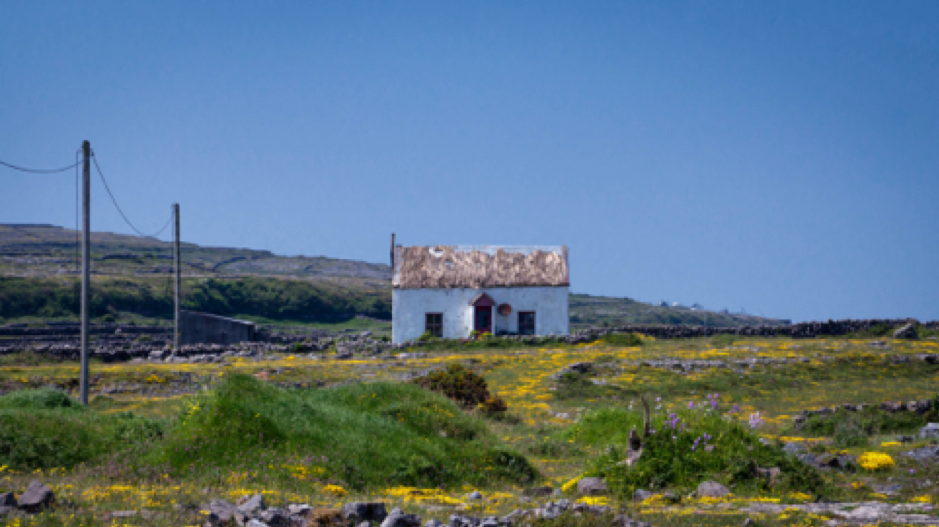 The location of the Cynefin Retreat about Narrative in Organisations (Ireland, 18-21 March 2019) is specially chosen for its unique landscape and naturally rugged beauty. This is so as to facilitate learning, sense-making, the blending of art and science, and also to loosen constraints on the imagination with a view to releasing artistic creativity and 'joining the dots' of our previous experiences with insights gained at the Retreat.
Ireland is renowned for its storytelling and folklore. Long before there were books and literature, the filíochtaí (poets) and seanchaí's (storytellers) of Ireland wandered the country and passed stories of history and folklore from town to town, and generation to generation.  
Although we are in the age of information with so much of it at our fingertips via the internet, storytelling is still alive and well in Ireland with many storytelling festivals being hosted each year throughout the country, from Cape Clear in Cork to Tory Island in Donegal (and many nooks and crannies in between). Our storytelling heritage is carried on to this day by modern-day seanchaí's who tell stories that have been passed down through the centuries…
One famous file (poet) from the 18th century was Antoine Ó Raifteiri (Raftery), whom many of us taught in Irish schools will remember for his poem 'Mise Raifteirí an file'. Liam Clancy recites a beautiful rendition of one of Raifteiri's poems 'Mary Hynes', which can be heard here. It is worth listening to with your eyes closed and your imagination ready to take flight…
A modern-day seanchaí is Eddie Lenihan, who tells stories about 'The Other Crowd', 'The Good People' and 'The Wee Folk', all descriptions used by Irish people to describe fairies. Eddie is a great storyteller and his ability to bring mythology and folklore to life are widely lauded. Eddie will give participants at the Cynefin Retreat much to ponder on as they go about their escapades and enquires during the week. Lets just say that they might have an appreciation for all that we cannot see, including 'the other crowd', following on from Eddie's stories.  Eddie researches the sources of his stories thoroughly and only tells ones he believes to be true…   
It is fitting that we have Eddie join us for the Cynefin Retreat (centred around 'Narrative in Organisations and Society') in Inis Mór, which is renowned for its storytelling and music. No doubt our thoughts will be embroidered by the stories of the faculty, seanchaí, our Inis Mór surrounds, and stories shared by attendees themselves.  In complexity speak, there is intrigue to discover what meaning will emerge over the week of the Retreat, and to see what that might look like…
---
As to what we will get out of it? The essence of a retreat is that it is an exploration from the perspective of multiple academic disciplines interacting with practice. So some of this depends on what people bring to the event. But we want to explore the nature of narrative as a constraint in organisations and society from the humanities and the sciences. A goal is to examine ways in which change can be stimulated; entrained patterns of needless difference reduced in their ability to dehumanise human interaction. How do people gain agency in their own forward narratives while respecting their past? At a very pragmatic level participants should come away with some new methods (and variations of old methods) that they can use in practice, at another level new ways of thinking about old and current problems. We'll look (critically I suspect) at the role of AI in decision making and decision constraining. Lots and lots of possibilities. Be there! – Dave Snowden
"The Whistler Retreat is a game changer for me. It brings people together who have potential to make a real impact. You're immersed in the retreat for 4 days. You're with attendees for long enough to not just meet one or two attendees, but to do some serious mingling. Over the course of the week the diversity of professions and areas of interest are so widespread, you can't but learn something new and become curious about an area you've not thought of before…
I found it really interesting. It's a 'joining of dots' for want of a better description.  People discussing concepts raised by faculty, and giving their own spin on it, giving good metaphors or examples in practice.  It's powerful stuff…" – Marion Kiely, 2018
---
Dave shares more about this Retreat in his blog –
Download the brochure, and register here!
As on previous retreats we do have a few limited places for people to take on roles in support of the retreat – at a discount. If you feel you have something to bring in that respect feel free to get in touch.
Opening picture is from  https://pixabay.com/photos/dolmen-new-stone-age-grave-ireland-456997/ (free usage).
Header image: Photo by Peter Aschoff on Unsplash (free usage).